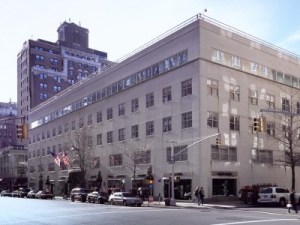 The Gagosian stronghold of 980 Madison Avenue will soon be home to three new galleries: Higher Pictures, the photography gallery now located a few blocks south on Madison; Yoshii Gallery, which is renewing its lease in the building and designing a new gallery; and collector Adam Lindemann, who writes for The New York Observer.
"There's limited gallery space left in the building at this time," Oliver Katcher, executive vice president of RFR, said in a statement announcing the moves. "Only a few galleries are currently available for lease on the third floor and we expect strong demand from top dealers."
According to the release, Mr. Lindemann will use the space to "showcase a variety of artists." It is set to open sometime in spring 2012 and will be designed by the collector.
Still no work from Gagosian on reports that the dealer is planning to open a cafe on the ground floor of the building.