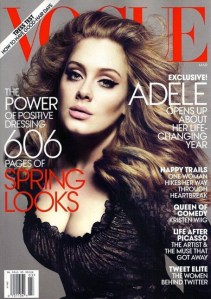 In a rare moment of web savvy, Conde Nast fashion flagship Vogue posted its March cover story about Adele this morning at midnight, just a few hours after the British singer swept the six Grammy awards for which she was nominated.
Unfortunately, the profile delivers little in the way of revelation (much less than Anderson Cooper's 60 Minutes piece) unless you count the very original theory that Adele's personal life and lyrics can be explained by her absentee father.
Jonathan van Meter wrote:
"Perhaps it's too easy to assume that Adele's compulsion to find and keep a man, not to mention her attraction to older men, is all part of a daddy complex, but it is tempting nonetheless. The fact that she so exquisitely expresses her heartbreak over the loss and betrayal of men in her life through her music may very well be because she's been feeling that loss and betrayal since she was a child."
To her credit, the 23 year-old singer handled the allegation with charming self-effacement:
"I have no idea where it comes from. I don't read literature. I don't have a very big capacity for language and words. I'm quite limited when it comes to just chatting. But my head comes alive when I'm writing music, and I start using words and describing emotions I had no idea existed in me."
More disturbing to us is the fact that Adele spends the profile hanging out in riding boots made by Chanel. Last week, Chanel designer and Metro guest editor Karl Lagerfeld declared Adele "the thing at the moment"–this despite the fact that "she is a little too fat."
"I lost over 30 kilos over 10 years ago and have kept it off," Mr. Lagerfeld later offered, by way of apology. "I know how it feels when the press is mean to you in regards to your appearance."
Of course, after one has sat for her first Vogue cover (and without being ordered by editor Anna Wintour to lose weight for it, no less), a dig from the free subway newspaper has little impact.
"I've never wanted to look like models on the cover of magazines," Adele told People magazine in response to his comments. "I represent the majority of women and I'm very proud of that."
In 2009, Ms. Wintour styled Adele for the Grammys, and she was escorted by Hamish Bowles.
We hope Adele loses the boots and writes Mr. Lagerfeld off as free material for the next album. Who needs ex-boyfriends when there are fashion fascists?