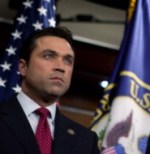 Congressman Michael Grimm, one of Mitt Romney's most vocal supporters, is no longer on his list of delegates for the Republican Convention, the Staten Island Advance reported this morning. Mr. Romney's official list of delegates, reported last Tuesday by Capital Tonight, confirm this as well. Mr. Grimm has recently been facing allegations from the New York Times' sources that he engaged in criminal fundraising behavior. He has steadfastly denied the charges, but the controversy surrounding it might have been too much for the Romney campaign.
Mr. Grimm was the first GOP Congressman in New York State to endorse a presidential candidate and had subsequently emerged as one of Mr. Romney's media surrogates, even traveling to New Hampshire and Florida to campaign on his behalf.
In December, The Politicker received a press release entitled "Rep. Grimm, Sen. Golden Headline Romney Delegate Slate for NY-13 Presidential Primary."
"It is a testament to the strength of the Romney campaign that our delegate slate will be headed by Congressman Grimm and Senator Golden, two of the best known, most respected Republicans in New York City," former Staten Island Borough President Guy Molinari said in the statement.
Mr. Grimm's spokeswoman further told the Advance that Mr. Grimm didn't need the slot because, as a sitting member of Congress, he would be automatically allowed to attend the convention.
Update: Mr. Grimm's office reached out to The Politicker to say the original report incorrectly framed the issue. Both New York Congressional Members who were delegates, including Nan Hayworth, were removed to make space for extra delegate slots, they said.