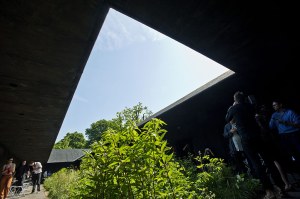 Architects Herzog & de Meuron, along with artist Ai Weiwei, will design the Serpentine Pavilion in Kensington in 2012. The group collaborated back in 2008 to build the so-called "Bird's Nest" stadium in Beijing for the Olympic games held there.
According to the Financial Times, they "have proposed excavating a hole in the park and letting it fill with London rain."
The Serpentine Pavilion is built each year as a "temporary adjunct" to the Serpentine Gallery. According to FT, Herzog & de Meuron and Ai Weiwei:
"liken their role to that of archaeologists. The hole will be capped by a glass roof which echoes the outlines of former pavilions but can also be converted into a dance floor for the Serpentine's famous fundraising summer party."
Herzog & de Meuron are pretty busy right now. They are converting the oil storage tanks at the Tate Modern into art spaces in London, and remodeling the Park Avenue Armory in New York. Meanwhile, Ai Weiwei's show of sunflower seeds just closed last week at Chelsea's Mary Boone gallery.