The real estate investor and British department store tycoon Mohamed Al Fayed is exploring a sale of the Manhattan office tower 75 Rockefeller Plaza.
According to executives who have been briefed on the offering, Mr. Al Fayed is aiming to negotiate a leasehold of the property in which he would continue to own the land under the 600,000-square-foot building and collect rent but put control of the asset in the hands of an investor.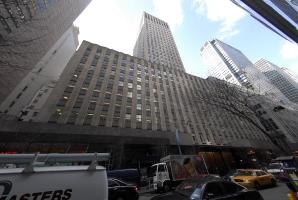 Mr. Al Fayed, who sold the UK-based department store chain Harrods to Qatar Holding in 2010, has hired a team from the real estate services company Cushman & Wakefield, led by top executives at the firm including Arthur Mirante, Bruce Mosler and sales specialists Helen Hwang and Michael Rotchford, to market the building. According to those who have been informed about the sale, Mr. Al Fayed has asked that sales materials be sent to only a select group of buyers, a pool of 15-20 that includes top Manhattan real estate investment firms such as the Paramount Group, Vornado Realty Trust and Tishman Speyer, the investment company that controls the bulk of Rockefeller Center.
C&W couldn't be reached for comment and a spokeswoman for Mr. Al Fayed did not return an email by press time.
The sale appears to be a way for Mr. Al Fayed to avoid the substantial capital infusion and expert management the property would appear to require in the coming years. The 33-story building is fully leased to Time Warner, but the company's commitment there expires in 2014. Though a spokeswoman for Time Warner said a final decision on the company's future occupancy at the property will be decided by the end of February, brokers familiar with the building say it is unlikely the company, which currently subleases all of its space there, will renew.
Time Warner's departure would leave behind a large vacancy that would likely take a significant marketing effort to fill. The building is also in need of capital improvements sources say, such as renovations of the property's lobby and systems like the elevators, in order to draw tenants. It benefits from a prime location.
"I think that the building will generate a lot of interest," said an executive at a firm that will bid on the property.
Though prime office buildings in midtown have been trading for as much as $1,000 a foot over the past year, experts say that 75 Rockefeller likely wouldn't command prices that high, especially if it is structured as a leasehold interest, which are generally less valuable than an outright sale, and also considering its capital requirements.
Staff Writer Daniel Geiger is reachable at Dgeiger@observer.com