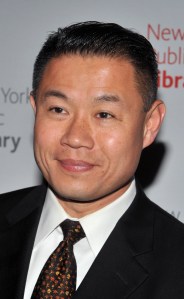 New York City Comptroller and possible 2013 mayoral candidate John Liu held a reception honoring labor leaders last night at the annual New York State Black, Puerto Rican, Hispanic and Asian Legislative Caucus association weekend where State Senators John Sampson and Eric Adams defended him against the fundraising scandal he's been battling since November. Mr. Liu also addressed the toll the allegations have taken on him and his family.
"My son, Joey, is in in sixth grade right now, and he is reading the papers, and I have to explain to him what they're talking about and what's really happening," Mr. Liu said. "So it is one of the things that we go through as real people."
Xing Wu "Oliver" Pan, was indicted last week for allegedly funneling $16,000 in illegal contributions to Mr. Liu's campaign. The scandal first came to light when Mr. Pan was arrested in November. Mr. Liu has faced scathing press coverage since the allegations against Mr. Pan first emerged.
At the reception last night, Mr. Sampson, the leader of the Democratic minority in the Senate, praised Mr. Liu for staying dedicated to his constituents throughout the fundraising flap.
"I want to congratulate John Liu, a person who understands that people, irrespective of trials and tribulations, irrespective of what people may say, or what editorials may write about him, he understands that his only constituency is the people of the City of New York," Mr. Sampson said.
Mr. Adams said he couldn't "come up here and not talk about the pink elephant in the room and ignore it as though it's not there" and asked the audience to imagine what Mr. Liu must be going through "when he reads the editorial pages."
"Sometimes people believe, because we are in government, that we are immune to some of the tension and some of the physical things that go with stress. His children have to go to school after reading the editorial pages that's on this endless assault just to attack this man," Mr. Adams said. "So, as he moves about, you've got to commend him, because anyone can look impressive in great weather, but how good is your act on bad weather days?"
Mr. Adams acknowledged many of the people at the reception were Mr. Liu's supporters, but he asked them to spread their support of Mr. Liu to other "folks out there."
"I know you're the choir, this is choir practice," Mr. Adams said. "Folks out there are off key and we need to sing what John Liu is doing."