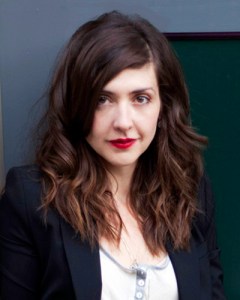 We've previously documented the wonderfully instigation-happy writing style of Alexia Tsotsis, the TechCrunch blogger who clearly knows something about severance packages at AOL that everyone else doesn't. Because she's at it again, writing like she wants to get fired, or at least test the limits of TechCrunch's autonomy and/or Arianna Huffington's patience.
Last time, Ms. Tsotsis explained that she was "beginning to feel stupid" for still working at TechCrunch in light of what she felt were AOL's poor decisions on an executive level. This was, of course, besides having already seen some of the oldest writers for the site (including founder Michael Arrington) get dispatched by Arianna Huffington in an aggressive power play.
Today, she posted an email forwarded to her about a new initiative by AOL chief Arianna Huffington: The installation of nap rooms. Nap rooms themselves aren't entirely hysterical. Plenty of people have crashed overnight in an office pulling all-nighters, usually on uncomfortable couches. These people could probably use more comfortable couches.
But what is funny about a nap room is the strong importance Arianna Huffington is placing on them. From the email to TechCrunch:
"This is high on the priority list for Arianna and your office is one of the few where we don't yet have it in place."
Also funny is the phrasing Ms. Tsotsis chose to use, especially for the headline:
"Arianna Wants To Put A Nap Room In TechCrunch HQ. LOL."
And also, the way she posts an Onion piece at the end of the post lampooning The Huffington Post's aggregation strategy:
"At least they're not trying to install one of these things. "
The entire thing is wonderful, and a clear shot across the bow at her employer. That said, if Ms. Tsotsis is in fact trying to get fired, this strategy—that of attracting attention to the site for its belligerence—make backfire for being successful. Or Ms. Tsotsis is trying to attract attention to the site on a Friday evening by openly provoking her boss.
Either way, it's fun to watch. One more like this and we'll open up the betting pool on when she gets canned.
fkamer@observer.com | @weareyourfek