Not included in Pearson's announcement last week to relocate from its headquarters in Upper Saddle River, New Jersey, was news of an expansion the firm has secured at 330 Hudson Street in Manhattan, The Commercial Observer has learned.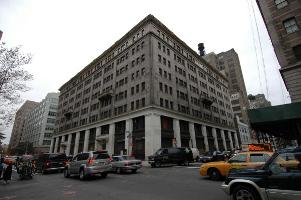 The media and publishing company, which owns the Financial Times and the Penguin Group, is adding 330 Hudson Street's entire fourth floor, a roughly 38,000-square-foot space, to the 271,000 square feet it agreed to lease there last summer. Pearson added the floor-through expansion options it had negotiated in its deal at the property and will now occupy floors 4-13, about 309,000 square feet, in the 16-story building.
Last week, Pearson announced that it had taken 206,000 square feet at Waterfront Corporate Center III, a 500,000-square-foot office building that developer SJP Properties is planning to soon start building in Hoboken, New Jersey now that it has Pearson's commitment as anchor tenant.
Robert Berzine, principal of the real estate services Richard Berzine & Company who represented Pearson in the deals, said that 330 Hudson Street would be used to consolidate some staff from Pearson's Upper Saddle River location but that it would mainly house facilities that will be relocated from midtown and other locations around the city.
"We have space at 1330 Sixth Avenue that expires in December 2013 and we have another six small Pearson leases scattered around Manhattan all of which are expiring around that time as well," Mr. Berzine said.
330 Hudson Street is being redeveloped by the investment firm Beacon Capital Partners and will be ready for occupancy by the fourth quarter of 2013 according to Mr. Berzine. Waterfront Corporate Center III, the building Pearson will occupy in New Jersey, will be finished in 2014.
The expansion at 330 Hudson Street adds to Pearson's sizable presence in the Hudson Square neighborhood where the building is located. According to Mr. Berzine, Pearson has substantial space at both 345 and 375 Hudson Street, two nearby buildings. He said the company has about 300,000 square feet at 375 Hudson Street and 140,000 square feet at 345 Hudson Street.
"We we will have about three quarters of a million feet, which makes us the largest tenant in the area," Mr. Berzine said.
Mr. Berzine worked with colleague Robert DeAngelis in the deal. Jones Lang LaSalle managing director Dan Loughlin, executive vice president James Montanari and vice president Aaron Ellison, also assisted in repping Pearson in the lease in Hoboken.
Dgeiger@Observer.com