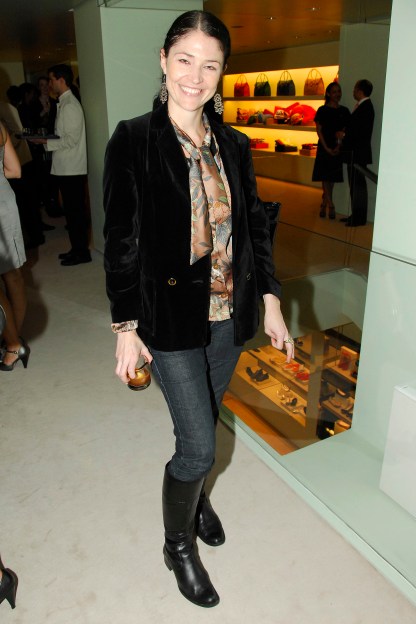 Her energy level is through the roof and her style rivals that of many tight-lipped editors: We're talking about Brisbane/Sydney native, Angela Gilltrap. Having worked as an actor, author and editor, this Aussie beauty has now eased into the role of Omni Media Director for fashionweekdaily.com and Daily Front Row (glossy media staples during fashion week). She not only tweets like a fiend, but is one of the faces behind the publications' surreptitious editorial escapes: the not-quite-a-gifting-suite Style Sessions. We cornered her for further explanation:
What do you do for the Daily Front Row? How does fashion week affect your job?
I am the Digital Strategist at The Daily Front Row. I'm here to support the edit staff so that all of our DFR fans get the most up-to-date insider information from inside the tents and beyond.
For most fashion folks, this eight-day week is a mammoth undertaking requiring super hero-like strength, endurance and patience. Not to mention oodles of lip gloss and a handbag full of Cynthia Rowley band-aids.
What's all this commotion I hear about some clandestine luxury suite for celebs and editors? Are there other such spaces around town?
VIP suites are the new black. Editors everywhere are scheduling these mini-breaks into their packed calendar and for good reason! The fashion world works hard and deserves to play hard. This is the second season we've run The Daily's Style Sessions—the ultimate VIP lounge that combines the best in entertainment, beauty and hospitality.
Here, the fashion elite can leisurely sip on a glass of Moët Chandon while catching up with their favorite celeb; tweet away the hardships of their life while enjoying pampering Meaningful Beauty by Cindy Crawford and talk shop with other editors over a manicure by Essie.
Where else are people flocking to for merriment or escape?
Another great getaway that combines two things not always seen on the same billing—food and fashion. Goodness, a pop[-up] restaurant created by Elettra Weiderman brings fine dining to fashion. Each day a different chef showcases the best in fine dining. This season Mario Batali, Alain Allegretti, Julian Medina and Leo Forneas are on!
Have any celebs dropped into the suite? Or are slated to show up?
We always have a big celebrity presence at The Daily's Style Sessions everyone from the Bensimons to the Kardashians. Entry is by invite only so fashionistas, editors, trendsetters and those in the know will be there.
Which designers make you "have a moment?"
Bibhu Mohapatra! He is one of my favorite designers, so talented and yet so humble. And of course, Carolina Herrera is always a highlight!