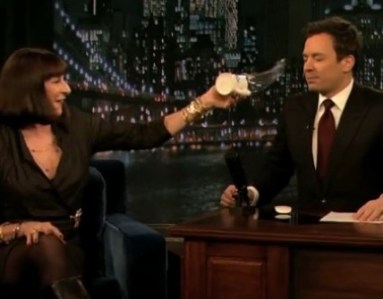 We were a little put out after watching the pilot for NBC's "hit new show(tm)" Smash and finding out that not once in the entire first episode did Anjelica Huston throw a glass of fluid in someone's face.
The previews for the show had lied to us, because we distinctly remember an entire commercial dedicated to what looked like a super-cut of her character, Broadway producer Eileen Rand, splashing people (usually her ex-husband) like she was on a really classy version of Punk'd. Luckily, the subsequent two episodes have had a lot more pizzazz. Look at that guy's face! Every time! Womp-womp!


Last night on Jimmy Fallon, the host played the clip of Ms. Huston just making everyone so wet, and she responded in kind:

We hope this becomes the Academy Award winner's new calling card: get too close, and she'll just douse you in Chardonnay.