We arrived early for Philosophy di Alberta Ferretti at the Avery Fisher Hall. Plenty of time to take a breather and people watch. A familiar flank of top-level editors began to trickle in… Roberta Myers, Virginia Smith, Glenda Bailey—all the glossy women's magazines were covered.
"Who's hotter? Robbie Myers or Joanna Coles?" The Observer asked, sotto voce.
"They both look fab!" answered a model-esque writer.
Benone! Editor-at-large for Vogue Japan and Italian style-empress, Anna Dello Russo, is fast approaching.
Posso chiedere qualche domanda in inglese?" we asked.
"Certo!"
"What's been your favorite show this season in New York?"
"Listen! Listen! It's the second day of fashion week! You cannot tell me that one! I need to see more shows!" dello Russo rebuked in a thick Baresi accent.
Whoa! She burnt us!
(We didn't dare correct her that it was actually the second to last…)
"So you've just arrived?" we hesitantly continued.
I mean no! It's just starting… it's like two days! I mean… It's not possible to say the best shows. Of course I saw Marc Jacobs… beautiful…but there's no time to give a – a… you know— Let's see!
"We agree… What did you love about the men's calendar in Milan? We saw you at Ferragamo—"
"No! You know what I like about men's now? What Riccardo Tisci is doing! I think Riccardo Tisci for men's—is doing very, very modern and strong. I think he has the leadership now!" she asserted.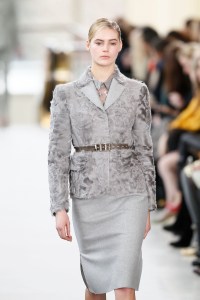 We loved Signora Ferretti's gunmetal, sand and platinum super-luxurious creations–fantastic daywear couture. Her bi-color and multi-material wonders used patent leather, crystal appliqué, fur, and even translucent PVC.
…But in the end, it was our run-in with Anna Dello Russo that kept us merry.