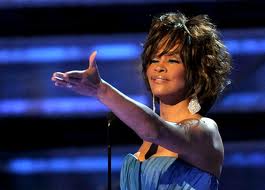 The Associated Press reports via its Twitter account that singer Whitney Houston has passed away at the age of 48. The A.P. cites Ms. Houston's publicist Kristen Foster as their source for the news:
BREAKING: Publicist Kristen Foster says singer Whitney Houston has died at age 48

— The Associated Press (@AP) February 12, 2012
Whitney Houston's meteoric rise to fame was powered by her beauty, charisma and powerful, soulful voice, but it was balanced by struggles with addiction and a turbulent marriage to singer Bobby Brown, which were tabloid and reality TV fodder for much of the last 2 decades. She attempted a comeback 3 years ago but in spite of great album sales, her live performances faltered. From the AP:
Houston staged what seemed to be a successful comeback with the 2009 album "I Look To You." The album debuted on the top of the charts, and would eventually go platinum.

Things soon fell apart. A concert to promote the album on "Good Morning America" went awry as Houston's voice sounded ragged and off-key. She blamed an interview with Winfrey for straining her voice.
The cause of Ms. Houston's death is currently unknown.
Whitney Houston's music dominated the mid-to-late 1980s. "The Greatest Love of All," her cover of a George Benson song written in the late 1970s, dominated music charts in 1986. Ms. Houston received an American Music Award for the video and was nominated for a Grammy.