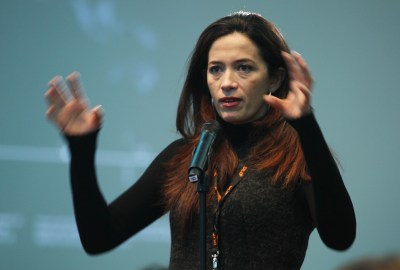 The issue of the New Yorker available online today contains staff writer Nick Paumgarten's Davos diary which, while not the juiciest, at least offers an honest explanation of why coverage of the World Economic Forum's annual boondoggle is always so dull:
In general, the W.E.F. greets the media with a warm, if wary, embrace. This has apparently been the strategy since the 1999 anti-globalization riots in Seattle and elsewhere turned Davos into a target of popular, and then journalistic, bile. The place is lousy with reporters. The catch is that most of what goes on is off the record. Most of the sessions and private events are governed by the so-called Chatham House rule. The bargain is generally acceptable to the insidious extent that the thrill of access outweighs the urge to reveal. Anyway, as the journalists all say, nothing newsworthy ever happens at Davos, even if the journalists must occasionally pretend that it does, in order to justify their presence there. For most of them, it's an occasion for cultivating sources, ideas, and the short-lived delusion that they belong among the white badges of the world.
Some might say journalists have a vocational mandate to reveal, in addition to the normal-human social "urge," but, whatever, we hope everyone is feeling inspired and sourced-up and important.
Mr. Paumgarten relayed one fun anecdote from a private soiree in a small, snowbound chalet a funicular ride up the mountain from Davos, which had been rented by Rupert Murdoch's son-in-law, and Sigmund Freud's great-grandson, Matthew Freud. There Mr. Paumgarten encountered Mick Jagger ("Jagger sightings were conversational currency," he admitted) and New York Times publisher Arthur Sulzberger's girlfriend Claudia Gonzalez ("a fixture in the international philanthropic and Big Ideas jetset," according to Capital NY).
I met the editor of a Turkish newspaper, the editor of a German newspaper, an Israeli hedge-fund manager, the founder of Wikipedia, and then a tall and elegant woman in a black dress named Claudia Gonzalez, who was the former P.R. boss for the W.E.F. She wanted to introduce me to Jagger, but first she needed to tell me something about my attempts to understand and convey the Davos scene. She fixed me with a fierce look and said, "Be humble. Do you understand? Be humble. Because this is your first Davos."