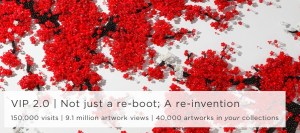 The second edition of the VIP art fair came to an end late last night. Dealers, collectors and art fans have finished their online chats, and logged out for the last time. The art world has returned to its normal Internet browsing. After the technical debacles of VIP 1.0, and with three more fairs scheduled this year, this was the make-or-break moment for the fair. Did the organizers succeed?
Many dealers that Gallerist spoke with, who had paid between $5,000 and $20,000 for their booths, were, at best, guardedly positive about the experience. At worst, they were sorely disappointed.
"From our perspective, unfortunately it was a waste of time," New York dealer David Zwirner said in an email. "[O]ur expectations were quite low going into this year's fair, and frankly, even those expectations were not met. The site worked fine this year, but we didn't sense any real interest from collectors, nor did we have any real exchanges of any consequence, which makes me doubtful of this platform moving ahead."
Though many dealers reported selling a few pieces and making new contacts, the competition and energy of real-life art fairs, to say nothing of the parties, were largely absent. (Our colleague Michael H. Miller wrote a bit about the experience of navigating the fair, last week.)
Augusto Arbizo, of the Lower East Side's Eleven Rivington gallery, said that he received only about a dozen and a half chats over the course of the six-day fair, but closed four sales. "It's pretty good as a batting average," he pointed out. His highest-priced sale was a Michael DeLucia piece, marked at $10,000, which many people agreed was the upper limit for most purchases.
"It was alright," Cristobal Riestra, of Mexico City's OMR gallery, said, when asked about the fair. "We have lots of emails and lots of names." OMR sold two works to new collectors, one at that magic $10,000 price point. "I think that, with art fairs, you win some, and you lose some," Mr. Riestra said. If he had to decide now whether to participate for a VIP 3.0, he said that he'd probably re-up.
One dealer from a mid-sized New York gallery, who asked not to be named, citing ongoing business relationships with the VIP organizers, said he was unlikely to return. "It was more work than we had planned," he said. "The functions could have been better. There was an automatic time-out in chat… and if I just had the window open, it would automatically log you out after fifteen or so minutes." As of late yesterday, he had made no sales.
Some have floated the notion that VIP is essentially an advertising program with a few high-tech additions. "Before a fair starts, any art dealer will say that it's all for advertising," said Jay Grimm, sales director for Winkleman Gallery, "but when the fair is over, if they haven't sold anything, they're pretty crabby. The effort is so high that to make no sales, it's really dispiriting." Winkleman, though, had made some sales.
Greenpoint's Rawson Projects, the youngest gallery in the fair, had also approached the fair as an opportunity to share its program with new collectors. "It wasn't cheap," Chris Rawson told us, "but we were thinking about it more from a marketing point of view, and it was the right decision." Though the gallery had not made any sales, they met new collectors, and were able to show a substantial selection of work, including large geometric paintings by David Malek and sculptures by Davina Semo.
Though most purchases hovered comfortably in the four-figure range, a few dealers did come up big, moving pieces in the $100,000 range, as Blouin Artinfo reported yesterday.
Dealers said that collectors were widely spread across the U.S. and Europe, though some reported new contacts from other areas, and VIP just sent out a news release trumpeting the jump in clients signing up from emerging contemporary art powerhouses like Mexico (319 percent over last year), Chile (456 percent) and Brazil (288 percent). According to VIP, 73,000 people registered for the event, and there were 160,000 total visits. VIP has three more online fairs planned for this year.
By far, the most enthusiastic dealers seemed to be from cities outside the main art capitals. Kourosh Nori of Dubai's Carbon 12 gallery said via email: "For us it was mission accomplished, since our artists received a very warm welcome… Considering the exposure for a gallery located in a geographic area with a limited number of collectors, we didn't really go for hunting sales, rather acquiring potential collectors. It felt mainly that collectors are interested in discovering new artists, in price ranges below 10K."
Carbon 12 attracted mostly American and European fair goers, with over 5,000 visitors to its booth–far outstripping, for instance, the 3,000 total that another small New York gallery told us they had. "Absolutely, without a shadow of doubt, we will take part again," Mr. Nori gushed. "It's great exposure for the gallery and the artists… Just picture that the work of Olaf Breuning from our booth was clicked over 19,000 times!"
An administrator for a small, well-respected New York Gallery emphasized that VIP allows dealers to "promote new media." True enough: dealers that had video in their booths—the type of art that one never stands around to watch at a normal fair—seemed happiest about VIP. And the dealer pointed out, "It was the type of experience that will be more and more frequent, adapting content to fit different forms."
Indeed, with online sales sites proliferating in recent years, it's clear that these digital affairs are not going anywhere soon. It's easy to balk at the lackluster experience of viewing art in digital form (as The New York Times' Martha Schwendener said in her review of VIP: "It's another reminder that most objects made in real space are best experienced there"). One thinks of that old David Lynch comment about watching movies on cell phones: "It's such a sadness that you think you've seen a film on your fucking telephone, get real."
But Mr. Riestra argued that VIP had served its purpose. "It's a fantastic tool," he said, noting all of the new contacts OMR had made, and the fact that it had allowed people to see new work from far-flung galleries. Nevertheless, he said, the unique intensity of a real art fair was absent. "The sense of immediacy is lost when buying art online," Mr. Riestra continued. "On the Internet, in two clicks you're in another place. You're on Wikipedia."