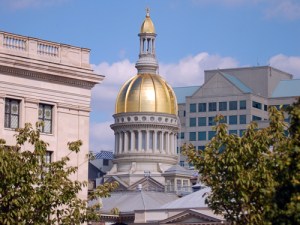 TRENTON – After more than two hours of passionate speeches, the state Assembly approved the marriage equality bill A1, by a 42-33 vote this afternoon, paving the way for the legislation to appear on the desk of Gov. Chris Christie, who has vowed to veto it.
The Senate passed the bill on Monday.
Assemblyman Reed Gusciora (D-15) of Trenton, who is openly gay, said marriage has evolved over time and now is the time to vote for this legislation, which he sponsored. He added that civil unions are not good enough, since it leaves them as "second-class citizens."
"Words do matter," he said.
A referendum, which Christie has called for, is not good enough, he said.
"Putting this issue on the ballot is the wrong thing to do."
Assembly Speaker Sheila Oliver (D-34) of East Orange, described it as a historic vote, saying we are currently "subjugating" some of our constituents by not providing the same rights to same-sex couples as heterosexual couples have.
"We can stand for equality today."
Assemblywoman Cleopatra Tucker (D-28) of Newark, who said she struggled with the issue, ultimately described the bill as a "civil rights issue," and not a religious one.
Four lawmakers were not at the session-Wayne DeAngelo, Declan O'Scanlon, Mary Pat Angelini, and David Russo.
Not everyone viewed the issue as a civil rights matter. Assemblywoman Nancy Munoz (D-21) of Summit, called for a referendum.
"If the polls are correct, than the voters will support it. I move to return it to the Assembly for a second reading."
Munoz's motion was tabled 44-31-1.
Assemblywoman Alison McHose also called for putting up the question before the public, adding that it's not a civil rights issue.
"I believe strongly the decision should be up to the voters," she said.
She also called on the Legislature to focus on "real" issues, mostly on the economy.
Assemblyman Jay Webber (R-26) of Morris Plains opposed the bill, adding that there's not a widespread problem with civil unions. He said of the 5,500 same-sex couples, only about 13 have complained to a commission about their rights not being respected.
"This bill is about redefining an important institution of civil society," he said. "That should give us great pause."
But Assemblyman John Burzichelli (D-3) of Paulsboro, said the issue should be decided by a representative democracy.
"It is long overdue," he said, adding that marriages of all kind will be stronger.