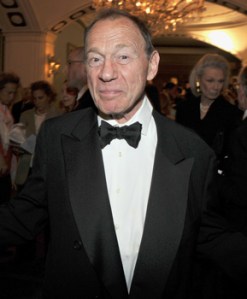 The line around the corner to get into Hiro Ballroom last night for Public Storage Blues, a benefit for the writer Anthony Haden-Guest, was not because the club was filled to capacity—it's just that they weren't letting anyone in. The invitation said doors at 7:30, and it was 8:00 p.m.; Mr. Haden-Guest hadn't arrived yet with the list. Mr. Haden-Guest, the one-time New York magazine art critic, decades-long mainstay on the party circuit, occasional Observer contributor and the definitive chronicler of the disco era was late to his own party. A group of people who looked like they should have been used to standing in the cold outside from all those years at Studio 54, waited in line while talking about the indignation of waiting in line. Finally, offering a coy "sorry," Mr. Haden-Guest arrived, list in hand, looking like he had been out at a different party and lost track of time.
Our invitation came a few weeks back, written in Mr. Haden-Guest's characteristically aristocratic voice ("please do say Yay or Nay!") albeit in the third person. He was holding a party to raise funds for his cause: he's suing Public Storage "for selling a thirty-four year accumulation of papers, books, art, music, clothes and well, everything, completely without warning when they knew he was in London, and owed them just $1,350." The collection, the invitation said, was bought by a single individual two years ago for $630. According to Mr. Haden-Guest, that person intends to sell these former belongings, likely at a major profit, and the writer is trying to prevent it by posting a $350,000 bond. The invitation sounded like an honor roll of New York partiers from bygone eras: it promised performances by James Chance, Nile Rodgers, Penny Arcade, Reno. Also: "John Cale will do something but isn't quite sure what!" Tickets were $30 at the door. The presence early on of Debbie Harry, looking severe in all-black, was promising.
Let's not dwell on the first act, which featured Mr. Haden-Guest's American cousin and his wife (who played two quick songs with an iPod backing track) other than to mention that our notebook says, "I think she's chewing gum while she sings," and skip right to Nile Rodgers, founding member of Chic. With his guitar hanging from his neck he explained the story behind writing the hit song "I'm Coming Out."
"How many of you remember the Gilded Grape?" he said. The room broke into applause, though the younger members of the crowd were left scratching their heads. "I'm not sure if it was a transvestite bar, but it was the night I was there. I was standing in the bathroom doing what you do when you're not doing coke or having sex." This received a collective knowing nod from a few of the more haggard-looking attendees. "And on either side of me—I'm not kidding—were Diana Ross lookalikes. And I thought: How cool would it be if Diana Ross was gay?" He proceeded to walk the audience through all of his big hits (apparently "Freak Out" used to be "Fuck Off") and gave some mention to a night with Mickey Rourke at Madonna's birthday party where they "did more coke than I think there was on Earth."
As was appropriate with this crowd, the night started to become a blur: Mr. Haden-Guest grinded against two very beautiful and young women; DJ Spooky called Mr. Rodgers a Minimalist "like Steve Reich and Philip Glass," even though disco is pretty much the exact opposite of Minimalism; Debbie Harry left; there was no sign of John Cale; Penny Arcade, the night's MC, made some racist jokes about how cops should arrest black people if they didn't go to college.
Glenn O'Brien took the stage with a sax player, doing a standup routine about Mr. Haden-Guest's drinking habits, each punchline hammered home by a jazzy scale.
"Anthony said he was a hard drinker, but he makes it look easy," Mr. O'Brien said. "He drinks to pass the time. I asked him what it's like in the 22nd century. Some people think it's a disgrace to be the town drunk. In New York, it's an incredible achievement. Once he read about the dangers of drinking, so he quit reading."
Afterwards, a naked girl whose whole body was painted elaborately stood onstage for a few minutes wordlessly and without moving.
Another MC—considerably less offensive than Ms. Arcade—appeared onstage as the crowd was beginning to thin out. "This show proves that old school New York can still throw a party," he said.