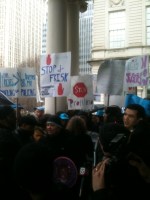 Dozens of members of the City Council and advocates of police reform from across New York crowded in front of City Hall today for a raucous rally calling for a sharp curtailment of the New York Police Department's stop-and-frisk policies.
"If you want to go where the numbers and the money is, you would be stopping and frisking every white man with a jacket and a suit and a tie, because he may be committing a financial crime that cause poor people to make bad decisions," said Brooklyn Council Member Jumaane Williams, who is one of the lead sponsors of a piece of legislation that ends current stop-and-frisk practices. "We are doing this in communities that are outliers. We are doing this in communities that you feel you can get away with it."
The legislation would strengthen prohibitions against racial profiling by the NYPD. Currently NYPD regulations prohibit racial profiling but only if it was the officer's "intent" to profile; the new law would put officers in violation of the law simply for stopping a disproportionate number of black sand Latinos. The law would also require police to inform those they pull over that they have the right to refuse to be frisked, and would require police officers to give a business card with their name and precinct number to anyone they pulled over.
"This is not political theater. This is a serious matter and a serious business," Mr. Williams said, in response to criticisms from police commissioner Ray Kelly about those who criticize another controversial NYPD practice–the surveillance of Muslims in the metro area.
The group chanted "Si Se Puede" and "We are the 99 Percent!""– a reference to the fact that 99 percent of those stopped are not in fact charged with a crime.
"There will be an explosion in our community," said Council Member Charles Barron. "There is going to be a time when if you don't respect our laws, we have a god-given right, we have a constitutional right to protect ourselves by any means necessary. You better listen to my brother today because our communities are not going to take it anymore."
The lawmakers were joined by several New Yorkers who described in searing detail their own experiences of being stopped by the police, in many cases multiple times.
It is unclear if the bill has enough support to pass. Mayor Michael Bloomberg has been a vociferous supporter of stop-and-frisk, but Council Speaker Christine Quinn has recently called for a reform of the practice.
Councilmember Stephen Levin read the 4th Amendment to the Constitution, which is the prohibition against illegal search and seizure.
"I have a copy of the Bill of Rights hanging over my desk. I suggest that the mayor and the police commissioner do the same thing–read the Bill of Rights, read the Fourth Amendment. You are on the wrong side of the Constitution, the wrong side of the Bill of Rights, the wrong side of history."
"Steve Levin, what's up!" said Mr. Williams after Mr. Levin spoke. "If you get him mad, you know something is wrong."