"God! Just get us in fast! Obviously we're important! We just came from Prabal," huffed and puffed one insignificant. Look at the crap we put up with this entire week of nonsense and fanfare! Luckily The Observer's attitude was a bit more polite.
To pass the time at VPL, while waiting for the show to commence, we dove into our goodie bags: Lip gloss… hmm… coconut water for our hangover… Lärabars! Our vegan palates were satiated! We raided a few others and began trading beauty products and popchips for more Lärabars with a flock of Vogue assistants.
"Who do you assist?" we nudged.
"Mostly Virginia Smith…"
"We love her!" The Observer interrupted.
"…also sometimes Meredith [Melling Burke]!"
"So nice and gorgeous! Her daughter Eloise is adorable! Love seeing her in the mag!" We over-shared.
The show began. Earthen tones and voluminous proportions on a very slender silhouette. This girl is downtown, goes to art openings, and likes Berlin.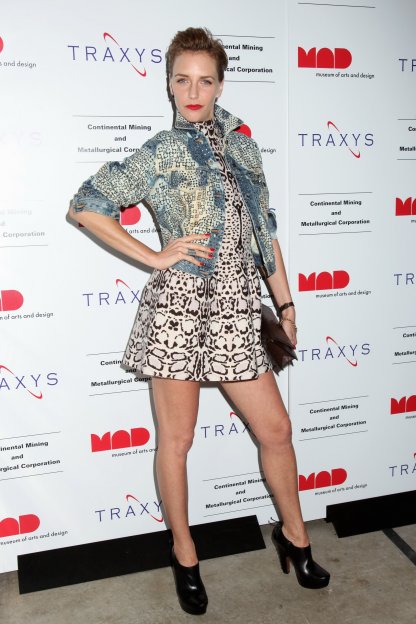 The Observer was shocked to see Belgian model, Hannelore Knuts, strut down VPL's runway in a taupe amorphous top and camel misbalance skirt. She doesn't waste her time for New York fashion week! She walks in Jean Paul Gaultier, John Galliano, and Kenzo! Then we quickly remembered that Victoria Bartlett and Knuts are amigas. Knuts, makes great face. The leggy– somewhat androgynous– beauty has graced the pages of Belgian ELLE, Vogue Italia, Korean and Japanese Vogue. She recently starred in Akris' spring/summer 2011 campaign. Another, less-know fact, is that she is an artist. Which explains why she received credit in the run-of-show for "creative."
"What did you do creatively with Miss Barlett?" we pondered backstage.
"We're very close friends so we– I kinda fit into her world. So it was sort of an exchange– me giving feedback…" Knuts explained.
Tell me about being a model and an artist,"
"They kinda do relate to each other, because I consider my modeling as an extension of my art. My language is photography or anything visual. As a model that's my part of making an image"
"What else are you doing this weekend?" we demanded.
"I'm flying to Milan actually on Monday to do an editorial," she giggled.
We were just there! Buon viaggio bella!