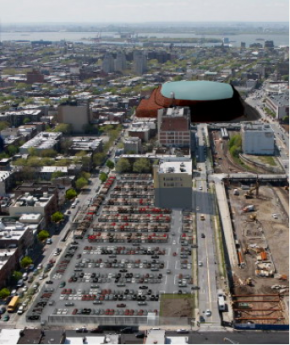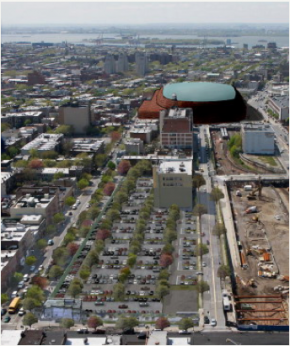 The issue of parking and traffic is always a problem in New York. If you aren't renting a space for an exhorbitant price, then chances are that you are driving around the block a few dozen times. (Unless you are in the Bronx, then you just park wherever on the street.) But no other borough likes to hoot and holler over traffic more than Brooklyn.
The construction of the Barclays Center is no exception, the Post reports:
An unconventional plan for parking at the new Barclays Center arena in Brooklyn has critics predicting a neighborhood traffic nightmare.

Stack-parking spaces — which use hydraulic lifts to stack anywhere from two to four cars atop one another — are expected to fill roughly half of an 1,100-spot parking lot going up next to the NBA Nets' arena in Prospect Heights, according to renderings commissioned by project critics based on approved plans.

With nearly a square block— bordered by Carlton and Vanderbilt avenues, and Dean and Pacific streets— designated to be the only on-site event parking lot for many years, the renderings show what many feared: It's mathematically impossible to fill a state-mandated 1,100 spots there without stacking spaces.
It is important to note that no other New York sports arena uses stack parking and that no tests have ever been conducted to ensure its efficiency (or even plausibility). Wouldn't it just make more sense to design another pretty parking structure?
Atlantic Yards Report points out that were the project not overseen by the state, but instead by the city, like every other project in the five boroughs, this stacked parking arrangement would be almost impossible, there would be far fewer spaces, and they would all be surrounded by trees. Compare the images above for more.
Meanwhile, the Carlton Avenue bridge is being delayed until September, Norman Oder reports, and if it slips past this new, unacknowledged deadline, it could mean havoc for all those stacked cars if they cannot manage to get to arena in the first place. That would be a real sport worth watching, Brooklyn car jockeying.
mewing@observer.com