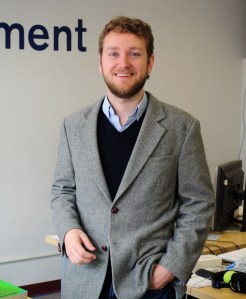 Betterment, the online investment manager for individuals that TechCrunch named "New York's Best Startup" in 2010, just announced it'll be delivering more for less. The startup introduced individual retirement accounts, or IRAs, in addition to its investing accounts, and changed to a lower fee structure at the same time. Betterment—a portmanteau of "better" and "investment"—charges users a percentage of assets under management; it has 10,000 paying users and 20,000 subscribers, founder and CEO Jon Stein told Betabeat.
With 13 employees in its Soho office, that's a pretty efficient company. Mr. Stein, a Certified Financial Analyst whose background is in investing and retail banking, wants Betterment's customers to manage their money efficiently as well. "Think of it as Apple meets Vanguard," he told Betabeat by phone last week. "A slick, intuitive interface on a smart investing backend."
Lower fees seems to be somewhat of a February tradition at Betterment. "Starting today, Betterment's straightforward fee is now even lower, ranging from 0.3% to 0.9% annually, depending on your balance," the company announced on February 11, 2011.
Betterment's fees are now in three tiers instead of four: .15 percent, .25 percent and .35 percent, depending on the minimum balance and desired features.
"This is huge," Mr. Stein said of the announcement. Betterment customers will pay an average of .25 percent on their IRAs, Mr. Stein said, much less than the average .78 percent, according to Deloitte. "We're launching IRAs, which has been most requested feature so we're super excited to get that out there."
Customers can open a new IRA, or roll over an existing IRA or 401(k) into a Betterment account, the company said. Betterment designed the rollover to be simple and economical, the company said, because 30 percent of Americans don't rollover their retirement accounts because it's too expensive and complicated.
Betterment figures three million 401(k) accounts are left un-rolled over every year, using numbers from a Harris Interactive survey commissioned by ING Direct. The math on the back of Betterment's envelope says if all those account holders switched to Betterment, they'd collectively save almost a billion dollars.
It's easy for Betterment, investment adviser, money manager and broker, to undercut its competitors, he said, "and still provide great value to our customers and save them a boatload of money."
Betterment has been listening to its users, thousands of doctors, lawyers, entrepreneurs, engineers and other professionals who use it to streamline their investments. "We're also launching next day deposit," Mr. Stein said. "You invest and next day funds are invested super fast as well—that's a feature that was requested left and right."
Going forward, Betterment's new features are likely to be "behaviorally-based," he said, meaning recommendations and user experience changes.
The company, which raised $3 million in 2010 from Bessemer Venture Partners, Anthemis Group, and Thomas D. Lehrmanreinmkr Inc., is of course hiring. "We're looking for developers and operations and marketing folks," he said. "All."