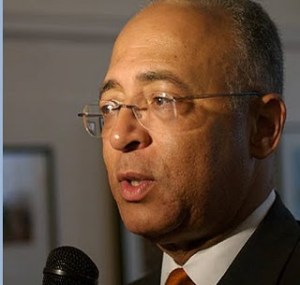 Bill Thompson, the former comptroller and close runner up to Mayor Bloomberg in the 2009 mayoral election, launched his website for the 2013 campaign today. BillThompsonForMayor.com includes an "About Bill" page with links to his biography, past accomplishments and a statement about his reasons for running. The site also has links to Mr. Thompson's social media accounts and pages for supporters to volunteer and donate.
"The 2009 race is in the past, and I'm not running for the past," Mr. Thompson said in a statement announcing the site. "I'm running for the future of this city – of every New Yorker in every borough – and that's what I want this race to be about."
Mr. Thompson lost to Mayor Bloomberg by a slim five percent margin in 2009. Afterwards, he immediately declared his intention to run again in 2013. In his mission statement on the site Mr. Thompson promises to "build a campaign of ideas."
"Over the next two years. I hope to build a campaign of ideas and advance a long-overdue discussion on the challenges facing our great city," he said. "It's clear that we need compelling and innovative approaches to our most pressing concerns: jobs, education, public safety, affordability, transportation and more."
The 2013 race is crowded with likely candidates including Council Speaker Christine Quinn, Manhattan Borough President Scott Stringer, Public Advocate Bill de Blasio, Comptroller John Liu and newspaper publisher Tom Allon. Though Mr. Allon has already launched his campaign, Mr. Thompson is the first of better-known and better-funded candidates who have previously held elected office to officially declare his intention to run and publicly launch a campaign website. In a conversation with The Politicker last month, Mr. Thompson said he was quite confident about his chances of winning.