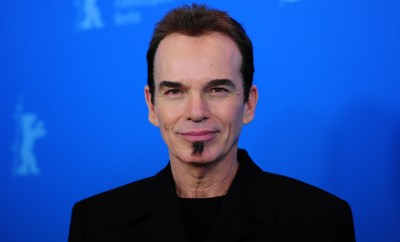 Well, someone just saw Vincent Gallo's autobiographical blowjob in Brown Bunny: Variety has just announced that facial hair/hat combo trendsetter Billy Bob Thornton will be co-writing and directing a movie based on his relationship with ex-wife Angelina Jolie.
Because you guys remember that, right? Billy Bob Thornton was married to Angelina Jolie? Okay, he's just making sure.
The film is tentatively titled And Then We Drove, which is already being shortened in the press to Drove, making it sound like a sequel to this year's hottest Ryan Gosling feature. Won't teen girls be in for a terrible shock when they buy their tickets and get this instead:
Thornton said the film is about "a guy who's on a road trip and picks up this girl along the way, and what happens to them. It's about the question of life: 'What is this? Where do I fit in?' "

An insider said the film is partly inspired by Thornton's wild and well-documented relationship with ex-wife Angelina Jolie, which (producer Alexander) Rodnyansky confirmed.
Well, insofar as it includes the star-crossed duo sharing vials of each other's blood and swapping tattoos, Drove could basically just call itself My Freaky Marriage to Angelina: A Documentary. Hopefully starring Ryan Gosling.