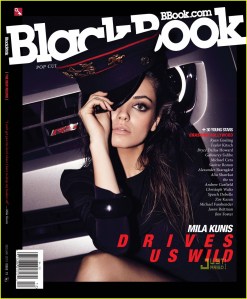 Newly appointed BlackBook editor in chief Joshua David Stein is looking forward to writing for an audience that's a little bit more like him. For the last year, he's been senior editor at Departures and Black Ink, the glossy magazines distributed to the wealthiest American Express card holders.
"I'm not a billionaire," Mr. Stein told Off the Record last week. "This job's not going to make me a billionaire. Or a millionaire for that matter!"
Mr. Stein's new boss at the arts and culture starter magazine, on the other hand, is definitely a billionaire. Last month, BlackBook Media Corp. was bought by grocery magnate Ron Burkle and his investment partner, Magic Johnson. Mr. Stein didn't have much to say about the acquisition, except that it means more money and better resources for the magazine, side-by-side with Mr. Burkle's current holdings, Vibe, Uptown and the reportedly lucrative Access Network media software company.
"I think the content is some of the best content out there," Mr. Stein said of BlackBook. "I think we can present it in a more creative, sophisticated kind of way."
"If you look at the front-of-book there's a lot of capsule reviews. That's not my style," he went on. "There's not gonna be capsule reviews. There will be a meaty, interesting, compelling front-of-book. I'll also say I think we have a wonderful team in place, but obviously I'm looking to add people there."
And aspiring BlackBook writers take note: Mr. Stein has a Zen boss attitude befitting a survivor of Gawker's self-destructive heyday.
"I'm interested in being fair, kind and just to the readers and to the staff," he said.
As for Mr. Stein's own arts and culture bona fides, it's hard to beat this: He has an album coming out next month of songs he's been working on since he was an intern at Harper's, eight years ago.
"When I was an intern at Harper's, Lewis Lapham was there and he was great. He peed without touching his penis," Mr. Stein explained. "I had never seen anything like that. So I wrote a song about him."
Sample lyric: "Lewis chain smokes Parliaments/He called me 'babe' once/I don't know what he meant/I feel like I gained a new grandparent."
Since then, Mr. Stein has written many more songs, including a number of songs about women he's dated, as well his wife, Ana Heeren, with whom he recently had a son, Achilles. As a 30th birthday gift, Mr. Stein's friend Kyle Forester, the Crystal Stilts musician, recorded 15 of Mr. Stein's original songs with a full band. In March, they're releasing the album, called "KCF sings JDS," in a limited run of 500.
"I asked Lewis to write the liner notes but I haven't heard back from him," Mr. Stein said.