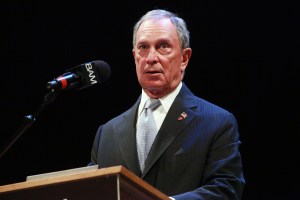 Mayor Michael Bloomberg blamed a recent poll showing a majority of New Yorkers disapprove of his handling of the schools on the United Federation for Teachers' ad campaign criticizing his record on education.
"Somebody goes and runs a bunch of ads every day on television, you can create exactly that poll," Mayor Bloomberg said.
The mayor went on to suggest he could turn around the numbers by buying his own ads.
"I guess I could go spend some money and reverse the poll, the press would love it," he said.
Last time the UFT took out ads against Mayor Bloomberg in March that's exactly what he did. At that time, the mayor opened a campaign committee to fund a $5.6 million campaign defending his record on schools complete with polling, mailings and TV ads. Mayor Bloomberg subsequently shut his committee in October, on the exact same day The Politicker wrote a story about its activities.
The poll, which was conducted by Quinnipiac University, found 61 percent of voters disapprove of Mayor Bloomberg's handling of the public school system. Quinnipiac's poll also showed 56 percent of voters trust the teachers union more than the mayor when it comes to protecting the interest of public school children. According to the poll, 57 percent of voters disapprove of mayoral control of city schools, which has been a major hallmark of Mayor Bloomberg's administration.
Interestingly, in spite of the negative numbers, Quinnipiac's findings weren't all bad for Mayor Bloomberg. The poll showed 59 percent of New Yorkers like Mayor Bloomberg as a person and 68 percent of voters say history will judge his tenure positively. It also found a majority of voters support Mayor Bloomberg's policies that have caused the most controversy with the UFT; merit pay for public school teachers and making it easier to fire underperforming teachers. Mayor Bloomberg pointed this out at his press conference today.
"A lot of this stuff is how you ask the question, but what was comforting is the public agreed with the individual policies of finding ways to reward the best teachers finding ways to help attract teachers from the best schools at the top of the class to come to teach in our school system," Mayor Bloomberg said.
Mayor Bloomberg also said it's clear things are going well in city schools.
"You know we're going in the right direction, our school system is a model for what should be done in the country. The president says so, the secretary of education says so," Mayor Bloomberg said. "You talk to people across this country, we don't do everything right, but no other city has incidentally the magnitude of the job in front of them that we have–1,100,000 kids with every kind of special need, every kind of background."
Mayor Bloomberg also said he doesn't allow popular opinion to guide his decisions.
"I've been doing this for 10 years. The job is not to find out what is popular and then go do it. The reason the city is an awful lot better than it was 10 years ago, and I think you'd be really hard pressed to find any part of the city that isn't, is because we've always done what we think is right," Mayor Bloomberg said. "When we've done it and it didn't work, we felt comfortable in changing it. Even when somebody writes 'failure' or 'flip flop,' we're not going to get married to any one thing."
Mayor Bloomberg plans to stick with that approach for the remainder of his final term at City Hall.
"We're going to keep doing that for the next one year and ten-and-three-quarter months, if my math is correct," he said.