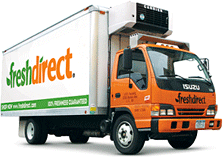 Local activists in The Bronx have criticized the deal to keep the headquarters of online grocer FreshDirect in the five boroughs as insufficiently transparent and an improper use of city funds, but Mayor Michael Bloomberg defended the project at a press conference this morning.
"We don't go negotiate deals open, nobody would ever deal with the city, you couldn't negotiate a deal," Mayor Bloomberg said in response to a question from The Politicker.
Mayor Bloomberg, Governor Andrew Cuomo and Bronx Borough President Ruben Diaz Jr. teamed up to offer FreshDirect $127.8 million in grants, tax credits and other incentives from the City, the State, Borough President Diaz's office and the Bronx Overall Economic Development Corporation. Of that money, New York City put down $89.4 million including; $74 million in tax exemptions, $9.5 million to "acquire assets to be used at the new facility at Harlem River Rail Yards" pending approval of the Industrial Development Agency, $4.9 million in energy benefits and a $1 million loan. FreshDirect is currently located in Long Island City, but the company was poised to leave the city after New Jersey Governor Chris Christie aggressively lobbied and offered a $100 million bid to woo FreshDirect to the other side of the Hudson.
Bettina Damiani of Good Jobs New York told the Daily News the deal was a "mockery of the public process" because it was completed two days before a public hearing debating the plan that' scheduled for tomorrow. Harry Bubbins, the director of local "community-based environmental organization" Friends of Brook Park sent a letter to City Comptroller John Liu blasting the FreshDirect deal as an "egregious violation of the public trust." Mr. Bubbins also criticized the potential environmental impact of the facility and the quality of jobs offered by FreshDirect.
"Fresh Direct is well known for its hostility to paying appropriate wages and not providing health benefits. According to Good Jobs NY 38% of its workers earn less than $25,000 a year," Mr. Bubbins wrote.
At the press conference, Mayor Bloomberg defended the use of public funds to compete with Governor Christie's offer.
"What's happening here is there's competition, some states try to buy jobs and then we don't have much choice but to get somewhat involved in the game," Mayor Bloomberg said. "I've always argued we don't have to bribe people or pay people to have jobs here, but there are some industries where you do and some industries like film, theater and television where the state's credits really do make a big difference and create enormous economic impact on us."
Mayor Bloomberg also touted the overall economic benefits of the FreshDirect facility.
"A company like FreshDirect that employs a lot of people at entry level kinds of jobs, which we do need, there's a real reason to be in New York," he said. "New Jersey was offering a lot of money to them and I'm happy to say that they decided to stay here. Does it cost us something? Yeah it cost us something. Am I happy about the fact that we have to pay? No."
According to the mayor, the FreshDirect deal will create 1,650 new jobs in addition to allowing the city to retain 2,000 jobs.
"The bottom line is, this project will allow New York City to retain something like 2,000 existing jobs and create 1,000 new permanent jobs; something like 650 construction jobs, because they're going to build a big plant in the South Bronx."
Mayor Bloomberg also argued FreshDirect was already going to be entitled to many of the tax exemptions offered by the city.
"Keep in mind, the property tax exemptions are only on the improvements that FreshDirect will make, not for everything. The majority of the city incentives are in the form of tax exemptions and approximately half of that would have been granted as a right anyway."
Though the mayor acknowledged, "we can't do it with every company and every job" he said there was no question this deal was the right move.
"If they weren't here, we wouldn't get anything. So, the fact that we're giving them somewhat of a break on how much they have to pay, it's not as good as giving them nothing, but it's a lot better than getting nothing," he said.