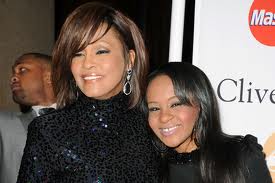 Bobbi Kristina Brown, 18-year-old daughter of Whitney Houston and ex-husband Bobby Brown, was taken to the hospital Sunday morning. Ms. Brown was still at the Beverly Hilton Hotel where her mother passed away Saturday afternoon. An ambulance rushed the teen to Cedars-Sinai around 10:30 a.m., out of concern for her anxiety.
After Whitney Houston was discovered unresponsive in the bathroom of her hotel suite Saturday her daughter scuffled with police. Authorities on-scene would not allow her in the room and according to TMZ Ms. Brown "screamed and cursed" while demanding to see Houston before leaving the scene.
A press release sent to the media on Sunday reported Ms. Brown was "awake and alert" after arriving at the hospital.
Whitney Houston's life and music will be a focus of tonight's Grammy Awards. Oscar winner Jennifer Hudson will perform a musical tribute.
A video of Whitney Houston singing "Jesus Loves Me" at a pre-Grammy party on February 9 was posted to Youtube on Sunday. It is perhaps her final public performance.
via Whitney Houston Final Performance Jesus Loves Me 09 FEBRUARY 2012 – YouTube.
[ABC News]