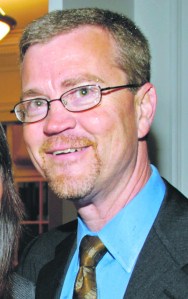 A few weeks ago, Paul Bogaards did something few good publicists, let alone the head of public relations at New York's most patrician publishing house, would suggest their client do.
In the early hours of Jan. 24, the 51-year-old executive director of publicity and marketing for Knopf posted "The Hierarchy of Book Publishing," a top-100 ranking of his colleagues and competitors, on his personal Tumblr. Far from a fawning Forbes-style list, Mr. Bogaards's blog post was a gallows-humor-inflected schematic of an industry in collapse. Books are so screwed, it suggested, that a self-published genre geek (J.A. Konrath, #2), the father of a 4-year-old child who has purportedly been to heaven (Todd Burpo, #4) and the intern running the company Twitter feed (#6) all faced sunnier futures than a feared industry veteran like Andrew Wylie (#11).
A couple hundred publishing-industry observers liked and reblogged the post, including the official Tumblr accounts of Vintage/Anchor, Penguin Press and Pantheon Books.
"It's funny because it's true," Kathryn Ratcliffe-Lee, a HarperCollins assistant, commented.
"AHHHHH PERFECTION," wrote Emma Straub, the bookstore-clerk-turned-fiction-writer. "And I don't even get half the jokes."
But to senior members of the industry, Mr. Bogaards—"Bogie" to friends and colleagues—didn't quite stick the landing. To them, the power list, rife as it was with personal snipes, more closely resembled a burn book, the wide-ruled repository for a middle schooler's toxic thoughts.
He called Bill Clegg, the book agent who penned a memoir about his crack addiction, "Stovepipe." He said New York Times critic Dwight Garner wrote his reviews "juiced, listening to Earl Scruggs." He imagined superpowered agent Binky Urban (#11) saying, "I wouldn't take that offer to my maid." He said nothing of hot-streak publisher Amy Einhorn, per se, but ranked her hair at #3.
This list particularly raised eyebrows for its treatment of women. Next to the names of several, including Word bookseller Stephanie Anderson (#63) and Newsweek editor Tina Brown (#88), Mr. Bogaards added that he "would nail her."
In Mr. Bogaards's defense, his book-world libido is gender blind. He would also nail Jamie Byng (#45).
But if one considers the underling who will have to pitch the next big Knopf release to Newsweek, it's clear the list shared more than its tone with a burn book. It also carries the genre's thinly veiled self-destructive impulse. Everyone knows such observations are better left unsaid, let alone written down. That's kind of the point: the thrill of knowing that your thoughts will be known by everyone who never asked for your opinion.
In addition to those who registered their amusement online, there were many who privately rolled their eyes.
"It's not very Knopf," one editor sneered.
Others were incredulous, wondering, "How does he still have a job?" and "Who has time for this?"
Still others, women in particular, reacted with "total, utter horror."
Not on Mr. Bogaards's end.
"Mostly, people were upset about their ranking," Mr. Bogaards told The Observer, reached on his ski vacation via email. "'Why is so-and-so above us?' Like I'm Comscore."
All that week, in elevator banks and email chains from Soho and Midtown, editors asked one other, "How is Bogie getting away with this?"
It's possible he's not getting away with it. Sonny Mehta, the mercurial Knopf patriarch and Mr. Bogaards's immediate superior, may simply be unaware of the Tumblr flame out. Mr. Mehta does not use social media and has been out of the country since shortly after it was published. Mr. Bogaards said the two had not talked about it.
But Mr. Mehta has put the brakes on his trolling in the past. Mr. Bogaards had been developing the material in the Tumblr post for months on his Twitter account (@knopfprguy), where he published a mix of PR tips, anti-Amazon bile, and book world fan fiction (imagining what Jeff Bezos and Larry Kirshbaum [#13] would say to each other at the National Book Awards and the like). He amassed 2,000 followers in the process, which is not bad for the publishing industry. In the fall, the stream included a recurring character called Harper Sales Guy, a hard-drinking clown adrift in the digital age.
Did you hear the one about the Harper Sales Guy? He tried to sell his Sony Discman on eBay.
As Mr. Bogaards's followers speculated about the identity of Harper Sales Guy, Jonathan Burnham, the HarperCollins publisher who would be Harper Sales Guy's boss, called Mr. Bogaards's real boss and asked, who is Paul Bogaards and why is publicly trashing my sales guy?
Mr. Mehta asked Mr. Bogaards to reconsider his avatar and Harper Sales Guy became S&S Sales Guy.
If Mr. Bogaards is getting away with something, it's because, over more than 20 years, he's proved himself an aggressive and dynamic foil to Mr. Mehta's Old-World gentility, someone who can be trusted to adapt and react to a rapidly changing business and a powerful publishing figure in his own right.
Mr. Mehta spotted him as a young publicist at William Morrow, where he had led a successful campaign for Michael Chabon's debut novel, Mysteries of Pittsburgh. During the '80s-'90s heyday of broadcast news, Mr. Bogaards, a tall and boyish-faced redhead, was known as the guy who always got his authors on Charlie Rose's show.
At Random House, Mr. Bogaards worked in the promotions department, a division Jane Friedman had recently spun out from the traditional publicity shop. Promotions handled television appearances and author tours exclusively; the matter of reviews was left to the longtime department head, Bill Loverd, an elegant peer of Mr. Mehta's who went over the catalogues with book review editors at his table at the Four Seasons.
Dealing with the television industry's sharklike producers, Mr. Bogaards developed a brash style that helped Knopf earn the market share its blue-chip roster deserved. Behind Mr. Mehta's self-effacing politesse, Mr. Bogaards ran big, shameless, TV-driven campaigns for writers like former President Bill Clinton and Carl Hiaasen and earned a reputation for wrangling tough talent.
"He can work with James Ellroy," said Sarah Weinman, news editor of Publishers Marketplace (and #19). "Not many people can."
Ms. Weinman herself got a light teasing in Mr. Bogaards's list but said she enjoys reading his feeds nonetheless.
Boris Kachka, the New York contributing editor who ranked #42, thought his Bogie-given name, "Boris the Butcher" (a reference to his Joan Didion profile), was a bit much, but added that Mr. Bogaards was never too serious when giving him a hard time.
"He quaintly calls that 'just busting your chops,'" Mr. Kachka said.
To the seasoned industry reporter inundated with press releases, Mr. Bogaards's no-nonsense style is a god-send.
"I like working with Paul because you always know what he's saying about a book is straight-up," Ms. Weinman said. She remembered that Mr. Bogaards's pitch line for Jo Nesbo's The Snowman was "It scared the shit out of me."
Like all good publicists, Mr. Bogaards is strategic and plays a long game.
"He holds a grudge just long enough to have something to hold over on you," one editor said.
"I have a long memory with the press," Mr. Bogaards confirmed.
But in an industry so courteous, operating like the press secretary in a gubernatorial race can be divisive.
An editor at a national magazine bristled when her rather formal query for an author interview was returned with "Offline convo" and his phone number.
"Is this guy for real?" she asked.