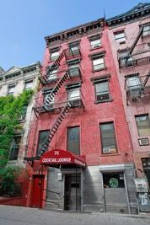 Beloved by vaguely health-conscious girls from coast to coast, Pirates Booty has become a hang-over staple, a white cheddar puffed delicacy ever preferable to radioactive orange Cheetos. The East Village is about to get its own fresh batch of Booty, as the brand's founder, Robert Ehrlich has just bought a home in the neighborhood, city records show.
Mr. Ehrlich founded Robert's American Gourmet Food in 1986, and the company now rakes in $50 million per year, largely off the sales of the treasured Pirates Brand products like Einstein-endorsed Smart Puffs and Original Tings.
Now the foodie CEO has sailed across the Hudson and dropped anchor at 75 St. Marks Place. He paid $3.8 million for the four story, mixed-use building. Until just last week, the ground floor was occupied by the Holiday Cocktail Lounge, the diviest of East Side dives, and a neighborhood fixture since 1965. The place was frequented by W.H Auden, Allen Ginsburg and Madonna back in their respective heydays.
According to Corcoran broker Dan Brady, who held the listing with his colleague Nick Arnold, Mr. Ehrlich will not be moving in. Instead, he plans to keep the space as is: four floor-through apartments with a commercial unit on the ground floor. Will there be a Pirate Shop occupying the hallowed, beer-baptized grounds of the former Holiday Cocktail Lounge? A Pirate Bar? A bar with pirate booty snacks? Whatever it is, it probably won't hold a candle to the timeless bacchanal that was the Holiday Cocktail Lounge.
The brokers' listing notes that the apartments are each 1,250 square feet, with southern exposures. As most of the units are leased on a month-to-month basis, "the rent roll is poised to increase substantially." Landlord booty! Interestingly, the brokers note that "the commercial lease is controlled by the owner, so it can be delivered vacant or the Holiday Cocktail Lounge continued," meaning that Mr. Ehrlich is personally responsible for deciding to close the beloved pub.
Mr. Ehrlich is no stranger to controversy. His company was famously sued for falsifying fat contents on the nutrition label, and in 2009 the FDA recalled Veggie Booty after it was found to be the source of a salmonella outbreak. The snack tycoon has also been involved in litigation in Sea Cliff, N.J. where he lives. He was forced to reimburse the town $900,000 after accusing officials of discrimination.
The building was sold by Roman Lutak, a martial arts master whose father, Steven, owned the place before him.
We called Mr. Ehrlich for comment but got his company's answering machine. "Ahoy mateys!" it said.
eknutsen@observer.com