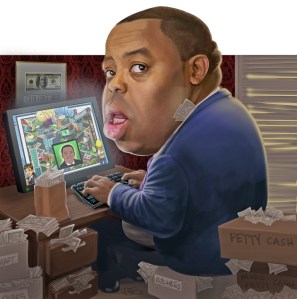 The past 12 months have not been good for assemblyman William Boyland Jr. In March, he was arrested on federal corruption charges. In July, it was reported he was playing computer games when he should have been in session in Albany. In August, his GMC Yukon was shot at as he drove through his neighborhood of Brownsville—though this last event seems to have been random.
There was moment of hope when Mr. Boyland was acquitted in November. But no sooner had he settled back into life as a free man—nearly three weeks later—than FBI agents arrived at his home, and he was arrested on a second set of corruption charges. According to the indictment, the bureau had him on tape, soliciting bribes.
(He declined to be interviewed.)
Should he be convicted of the charges against him, Mr. Boyland will be the last of a nearly-40-year-long Brooklyn political dynasty.
The legacy of the family began with Mr. Boyland's uncle, Thomas S. Boyland Sr., the first of the clan to represent the 55th District, which includes the Brownsville, Ocean Hill, Bedford-Stuyvesant, Crown Heights and Bushwick sections of Brooklyn. In 1982, Thomas Boyland died of a heart attack and his brother, William Boyland Sr. (who goes by Frank), inherited the seat. He eventually passed the seat on to William Boyland Jr., after abruptly retiring in 2002, in a move many observers said was designed to ensure his son would succeed him. The family's influence has also extended to the City Council, where Mr. Boyland's sister, Tracy, spent several years.
Mr. Boyland's political career was built on top of his family legacy. His district offices are located on Thomas S. Boyland Street, which is located a stone's throw away from the Thomas S. Boyland Homes, the Thomas S. Boyland Democratic Club and P.S. 73, the Thomas S. Boyland School. A Thomas S. Boyland street sign hangs above the doorway to the assemblyman's offices in Albany.
As the retired Mr. Boyland Sr.—who did offer comment for the record—put it, the project of representing their particular district "was to rebuild a piece of shit, you know. It was no housing, no nothing. This is years ago and they had nothing out there but garbage dumps. Now they got something."
The extent of the Boyland influence in the neighborhood is so significant that the family has been dubbed the "Kennedys of Brownsville."
Tish James, councilwoman for District 35 in Brooklyn, is a close friend of the Boyland clan who has known the family for more than 20 years, described their legacy.
"They've had a succession of successes in Brownsville. They built housing in Brownsville. They transformed neighborhoods, which were once burnt out, into middle-class neighborhoods," Ms. James said. "They were very instrumental in economic development, and bringing job opportunities to Brownsville and reducing violence in Brownsville."
But that may all be over soon.