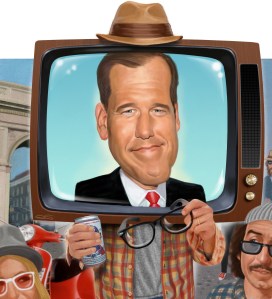 On a recent post-NFL season Monday night, 7.3 million people watched a remake of Hawaii 5-0. Another 6.7 million watched Castle, a crime procedural that's safely avoided buzz for four seasons. A crowd less than half that size, 3.2 million, watched an American furniture manufacturer tearfully repent for outsourcing the family business, met a real-life moon colonist, and saw a chimpanzee flip through a children's book. "They like to look at the pictures," the voiceover explained.
They had landed on the three-month-old newsmagazine Rock Center, NBC's prime time bid to recapture an audience for TV news by offering a looser format in which to showcase Brian Williams's formidable charisma. Mr. Williams's sensibility is so deeply ingrained in the programming that Rock Center executive producer Rome Hartman likes to say that, when it's working, it feels like "Brian's playlist."
"He's got tremendous personality," Mr. Hartman said in a phone interview with The Observer. "We wanted to give him an opportunity to show the breadth of his experience, his knowledge, his news sensibility, and the range of his personality."
Since when do news anchors need a personality?
The previous generation of TV news gods—Dan Rather, Peter Jennings and Tom Brokaw—didn't have personalities; they had jawlines, which were square, and brows, which they knit when they told us with patriarchal gravity how the country's day went.
In 2010, network news lost more than 750,000 viewers, according to a report by the Pew Research Center. Although NBC shed the fewest, the report noted that network news is on "a slide so long and gradual that few imagine it can now be abated, except perhaps by moving to new platforms."
Mr. Williams has a lantern jaw and an expressive brow too, but he also has the comic timing and pop culture antennae that make him the kind of guy you'd want to make you a playlist. These traits, though by all accounts genuine, might have been reserved, in another era, for the anchor's close friends and off-the-record confidantes. Instead, they've been drilled into us in what seems, retrospectively, like a company-directed cross-platform Brian Williams congeniality campaign.
He hosted SNL capably. He skewered himself on 30 Rock and he skewered his medium on Fallon, slow-jamming the news. As part of a roundtable assembled on MSNBC's Morning Joe to discuss the biggest media story of 2010, Mr. Williams delivered a satiric monologue about The New York Times's "discovery" of Brooklyn so uncannily pitch-perfect that it felt like watching Skynet (the Terminator's artificial intelligence overlord) become self-aware. It knows it's an anchor.
It seems to be working.
"When he got the anchor job, I distinctly remember having zero opinion of him," Eric Cunningham, a 27-year-old sketch comedian told The Observer. "But then it's almost like he went out of his way to let people who weren't news junkies know that he was cool."
Interestingly, NBC opened up programming space for Mr. Williams's personality at the same time the ratings of The Daily Show with Jon Stewart were surpassing those of every Fox News host's except Bill O'Reilly. NBC Universal tried to lure Jon Stewart away from Comedy Central more than once, according to sources familiar with the matter. But judging from Mr. Williams's 2007 turn as the host of SNL, they didn't need to.
"Brian was funny before Jon Stewart," said Alexandra Wallace, a senior vice president at NBC News and a longtime executive producer at Nightly. Ms. Wallace said that his move toward entertainment was organic but that the network opened up to his comedic outings when it saw they didn't cost him any credibility.
"The news has become more personal," she explained. "As the viewer, I want to feel more of a connection, and I want to feel that I'm getting to know the person who's telling the news."
Some NBC insiders said the laid-back, on-air Brian belies managing editor of Nightly News Brian, who has an assiduous, Type A personality and whose staff abides by a strict code of punctuality and professionalism. Mr. Williams has been through five executive producers in his seven-year tenure (the survivors went on to higher posts at NBC) and has said he wouldn't wish the job on anyone.
"You don't get where he is without having really high standards for yourself and the people who work for you," Ms. Wallace said. "I think Brian has a ton of fun, and the staff has a ton of fun but it's a lot of work. So I'm sure there are some rules. But we might be getting on at 6:45 if there weren't any."