The real estate developer and investor Daniel Brodsky is in negotiations to buy the Desmond Tutu Center, a conference and hotel facility owned by the General Theological Seminary in Chelsea.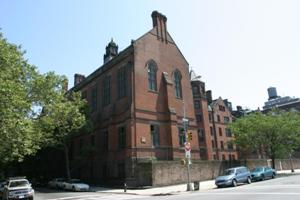 Named in honor of retired bishop Desmond Tutu, a human rights activist in Africa, the center is at least 50,000 square feet in size and has around 60 hotel rooms. It features two large conference rooms and several break out rooms and proximity to hot New York destinations the High Line and Meatpacking District that make it a popular space for conferences and events. Bruce Parker, executive director of communications for the General Theological Seminary, said that the space was host to at least one event related to Fashion Week in past days.
Reached by phone in his office, Mr. Brodsky declined to comment on the deal. Mr. Parker also was not able to provide details on the transaction. A person familiar with the sale, however, said the building could be worth around $30 million.
The Desmond Tutu Center is actually at least three adjacent red-brick, neo-gothic properties built along 10th Avenue by the General Theological Seminary that were joined to create a larger facility. The center is a landmarked building with interior spaces outfitted with traditional church architectural details such as stained glass windows. The structure is tied into the walled compound of buildings and lush park space that the seminary owns between 20th and 21st streets.
Mr. Brodsky, a prolific developer of luxury residential buildings in the city, has purchased several properties from the seminary, which has sought to liquidate portions of its real estate in order to pay off about $40 million in debt, according to reports. In recent weeks, the seminary sold 445 West 20th Street, another building it owns, for $18.5 million to Mr. Brodsky. Among Mr. Brodsky's other purchases from the seminary is 422 West 20th Street, a building he is converting from dormitories to residential condos.
Dgeiger@Observer.com