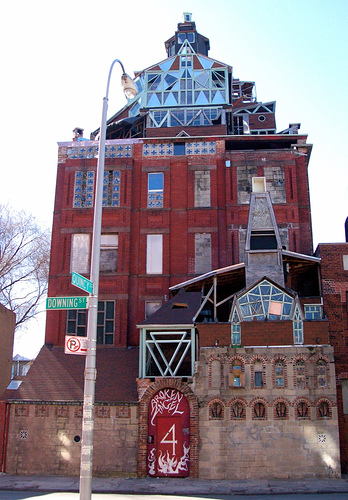 The last few years have been shaky, at best, for the Broken Angel House in Brooklyn.
The beloved private home at 4 Downing Street in Clinton Hill will be on the auction block on March 29th, the Real Deal reports, bringing to a close years of trauma for one of the most distinct buildings in city.
The 10,400 square foot property has been owned by Arthur Wood for thirty years and has served as a neighborhood staple of art and architecture. It further received recognition as a backdrop in Dave Chappelle's 2005 film, Dave Chappelle's Block Party. In 2006, a fire destroyed some of the its iconic features and drew attention from the Department of Building, which declared the building's living conditions unsuitable.
The artist planned to develop the property as a condominium project, but plans fell through as the recession hit in 2008. His wife was then diagnosed with cancer and died in 2010. Wood threw the house on the market, but there were no bids.
In the midst of Wood's turmoil, the lender, Madison Realty Capital, filed to push the house into foreclosure in 2008. The house bears a lein of $2.7 million and will auctioned with the 1,996 square foot lot next door at 8 Downing Street.