Saturday night we were hosting a small dinner party, and in a rush to find fresh mozzarella, we stopped into Carroll Gardens D'Amico Foods, the site on which a battle of the beans is currently being fought.
As we reported last week, the Carrol Garden institution, which opened in 1948, grinds and brews its coffee on-site in the front of the store, as it's been doing for over 60 years. But after some local resident called 311 and complained about the smell, the DEP made a surprise visit and told the shop that it may have to close down its operation, due to a lack of an afterburner.
After seeing the infamous sign in the window, we went in and talked to owner Frank D'Amico Jr.'s wife, Joan D'Amico about the current situation.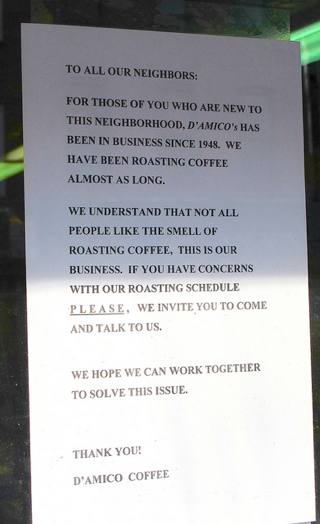 "It's been insane," said Mrs. D'Amico. "ABC News was just here this morning."
"It was CBS News," an eavesdropping stock boy remarked.
"Oh yeah, CBS. The response has been overwhelming ever since Katia Kelly (the woman who runs Pardon Me for Asking, the blog that originally ran the item) put the story up online. She's a friend of mine. We've had a lot of people come in and show their support."
"We were surprised by how many new faces have come in," the roaster remarked. "The guy from Gothamist, he came down here too…he lives right near by…he couldn't believe it."
"No publicity is bad publicity?" We shrugged. Was D'Amico still brewing its coffee in the front?
"Yes, we have to," she replied. "What can we do? We have to keep the business going." They still haven't installed an after-burner, which would remove much of the bothersome smell, but have plans to.
Did they know who had ratted them out?
"No, but we have a general sense that it was someone across the street," Mrs. D'Amico told us, pointing across Court St., where there currently resides a nail salon, a bodega, and residential brownstones. "I understand that some people might have a problem with the smell, but I never thought they'd go directly to the city. Why wouldn't they just come in here? We could have talked it over…maybe discussed different times to brew so not to bother the neighbors."
When we mentioned how much we loved the sign posted, Mrs. D'Amico laughed. "Oh yeah, I wrote that. I had a girlfriend help me with some of the wording…she had me take some stuff out."
"Like where you tell the neighbors to shove it?" We joked.
"No, nothing like that. It was just a little more…strongly-worded before."
We walked out with our fresh ball of mozzarella pound of prosciutto…all for the low price of $11. They were both delicious.