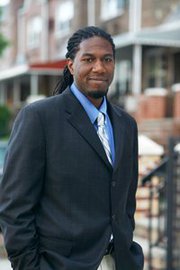 Multiple sources inside the City Council have told The Politicker the race between Frank Seddio and Mercedes Narcisse to potentially succeed Councilman Lew Fidler in Brooklyn's 46th District had a major impact on the vote for leadership of the Council's Brooklyn delegation. Council members are voted to elect a chair of the Brooklyn delegation this afternoon and the main nominees were Jumaane Williams, David Greenfield and Darlene Mealy. Mr. Greenfield and Ms. Mealy won the vote and some insiders believe Mr. Williams was not elected to one of the chair positions because he hasn't endorsed Mr. Seddio.
"If it were important for him to be Brooklyn delegation chair, he's been told he would need to support Frank Seddio in order to ensure the votes in the delegation," a Council insider said. "There is obviously pressure being put on Jumaane."
Mr. Seddio vociferously denied the idea his race played a role in the Brooklyn leadership vote.
"I don't believe that for one second that that's the case," he said. "I have no role in it. I'm flattered that I get something to say about something I have no title to. I wasn't aware of it. I know nothing about it."
Two of the nominees will be elected to chair Brooklyn Delegation. As City & State reported earlier this month, the vote has implications for 2014 Council Speaker's race and Mr. Greenfield has a strong chance of winning one of the slots since the chair positions are traditionally given to members from different ethnic groups. Mr. Greenfield is caucasian and both Mr. Williams and Ms. Mealy are African-American.
Both Mr. Seddio and Mr. Williams are members of the Thomas Jefferson Democratic Club, which has traditionally held sway over Council races in the 46th District. Mr. Seddio is a close ally of Mr. Fidler, who is currently running to fill the Senate Seat vacated when Carl Kruger plead guilty to corruption charges last December. Sources said Mr. Fidler, who is one of the 16 members of the Brooklyn delegation, told Mr. Williams he wouldn't vote for him and would encourage others to do so as well if he wasn't willing to endorse Mr. Seddio.
As of now, Mr. Williams hasn't made an endorsement in the race between Mr. Seddio and Ms. Narcisse and another source in the Council said he isn't planning to do so.
"He's not going to trade an endorsement for a seat or any other political favor," they said. "So far, he's staying out of the race. Mo endorsement has been made."
Mr. Williams doesn't seem to have held out much hope he'd win the chairmanship. He showed up at the vote today to turn down his nomination for the chair position.
"I did attend the Brooklyn delegation meeting and I declined the nomination," Mr. Williams said. "I just never accepted."
Mr. Williams declined to comment on whether pressure to endorse Mr. Seddio was a factor behind his decision to turn down the nomination.
For his part, Mr. Seddio has repeatedly said his main focus is on making sure Mr. Fidler the special Senate election against David Storobin March 20. He said he doesn't plan on seeking any endorsements until after the outcome of Mr. Fidler's race becomes clear.
"I haven't gone out and asked anyone to support me in any way, shape or form," Mr. Seddio said, "Maybe Lew has to win first so that the council seat is vacated. Maybe I missed something for this."
Update (2:42 pm): This story was updated to include comment from Mr. Williams. We were initially unable to reach Mr. Williams and the original version of this story said Mr. Williams participated in a police accountability rally outside City Hall rather than attending the Brooklyn delegation vote. When we spoke to Mr. Williams, he informed us he briefly stopped by the vote to decline his nomination.