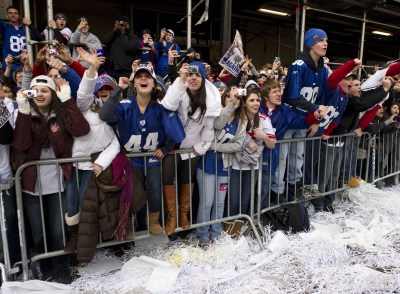 Alex Moreno wasn't the target of the flying toilet paper rolls arcing across Broadway at Exchange, and he didn't seem to mind when one hit him in the head. "I didn't even feel it," he said. "Go Giants!"
Throngs of people packed behind NYPD barricades waited to see the Giants' ticker-tape parade Tuesday, held in honor of this year's Super Bowl champions. Celebrants formed a sea of blue: glittering blue eye shadow, blue jerseys, blue wigs. Residents of overlooking apartments shoveled shredded paper out of their windows by the bucket, coating thousands of fans below. And it was barely 10 a.m.
Apparently, you can't get to the Giants Parade too early.
Inebriated partygoers and bemused children alike waited to catch a glimpse of their beloved team. A class of fifth graders squirmed with excitement and climbed scaffolding while their teacher looked on. "Our class had to write a persuasive letter to our teacher telling her we really wanted to go to the parade," said Nicolette St. Fleurant of Brooklyn.
Screams, yells and disjointed chants rose from the crowd, ranging from "Go Giants" to "Brady Sucks"—though the latter fizzled when someone pointed out that Brady is a closet Yankees fan.
Anyone sporting gear from any other team was definitely in the wrong place. A man in a Red Sox hat had to flee the scene after being chased by John Yip of Brooklyn and several of his friends, who urged Yip to show no mercy. "My friends wanted me to do some ignorant things, but, I mean, I wouldn't do that," he said. "But that guy really is a terrible human being. Make sure you write that down. He's a terrible human being."
Noted.
Death threats weren't the only weapons being wielded. It turns out that Yousef Murden, a sheet metal worker from Brooklyn, was responsible for arming a street full of adrenaline-filled New Yorkers with noisemakers only slightly less irritating than the vuvuzela.
"I got them for about $24 a dozen and I'm selling them for $10 a piece," Murden said of his red air horns, proudly. "They're left over from New Year's Eve. So I figured, why not sell them today? Gotta think ahead."
As the parade inched closer, Jake Warburton and a cohort of friends chanted and trumpeted the imminent arrival of the Giants with an equally annoying long, green horn. The crew worked together as servers at a Staten Island Applebee's, and they came to Manhattan, "obviously, for the fucking Giants," Mr. Warburton said, as he took swigs from a near-empty Gatorade bottle. The pink stuff inside was vodka with Hawaiian Punch and lemonade, and earlier that morning, they downed shots of Jameson and "redheaded sluts" (not on the menu at Applebee's).
Mr. Warburton, who wore a jersey and crystal earring, said he slept through the Super Bowl since he worked a double shift at Applebee's the night before. "I watch every single game," he said, "except for the Super Bowl. How awesome is that?" Awesome.
As elderly ladies tossed paper strips from a window, and drunk boys below pleaded with them to "show your tits," everyone was feeling the love.
Michael Morawed took photos with anyone who would say yes. "I don't know," he said when we asked him why. "It may be the alcohol, or it may be the awesome Jets—I mean Giants—fans."
"I'm a Jets fan," a passerby yelled in Mr. Morawed's face.
"Yeah, but the Giants!" Mr. Morawed said with a big smile, embracing the stranger for a picture.
And then, they arrived. "They Giants are here! The Giants are here!" chanted the pulsating crowd as the G-Men floated up Broadway, both parties filming each other with cell phone cameras. The Vince Lombardi Trophy glinted in the sun, and a couple of giddy dudes bounced up and down: "We got to see Eli!"