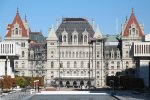 The Catholic Conference, which lobbies lawmakers on behalf of Catholic bishops in New York State denounced a bill pushed by Maspeth Assemblywoman Margaret Markey that would make it easier for sexual abuse victims to sue their accusers.
The bill would temporarily lift the statute of limitations on lawsuits alleging the sexual abuse of children, and Ms. Markey has been pushing it for years. The Catholic Conference says carves out public schools, which have been a frequent site of abuse in recent years. 
"While Assembly Member Margaret Markey pursues a one-year 'window' in the statute of limitations to allow for lawsuits for 60- or 70-year old claims of sexual abuse against private schools and churches, it would be wise to look at what is going on TODAY in our public school system, and focus on protecting our children and grandchildren from predators," wrote Dennis Poust, a spokesman for the group, in an email today. "Mrs. Markey's bill would continue the unfair system of forever barring lawsuits against public institutions (schools, colleges, city pools, county health clinics, juvenile justice facilities, etc.) if the victim does not file a 'notice of claim.' with the courts within three or four months."
Mr. Poust emailed out a slew of stories showing instances of abuse in public schools, and passed along the following memo calling on the law to treat public schools and the Catholic church equally.
1. This is not a controversy over criminal penalties for sexual abusers.
There is no controversy in the New York Legislature about the need to protect children and prevent sexual abuse. Yet the Markey bill, proposed seven times, has never been enacted. There is a good reason – and it's not related to prospectively extending the criminal or civil statutes of limitations so sexual abusers can be prosecuted or sued.
Indeed, there is broad agreement on extending the criminal statute of limitations to cover non-felony sexual offenses, just as there was broad support in 2006 when New York enacted a law eliminating the criminal statute of limitations on felony sex offenses. There also is broad agreement on prospectively extending the civil statute of limitations, giving victims of sexual abuse up to five additional years to file civil lawsuits claiming sexual abuse.
2. Amid a sexual abuse crisis in New York City public schools, the Markey bill selectively targets private schools and exempts public schools. Why?
The fundamental objection to the Markey bill is that it eliminates the statute of limitations on civil lawsuits for sexual abuse claims that are decades old. Statutes of limitations establish a reasonable time period in which civil lawsuits must be filed. This bill would waive that time period for one year, allowing any lawsuit claiming sexual abuse at any time in history to be filed against any party – with one very big exception. The Markey selectively targets private organizations – religious groups, private schools, non-profits and businesses. Public schools and other government entities are exempted due to the restrictive "notice of claims" requirements put on individuals who wish to sue public institutions, which her bill does not address.
This is not an oversight. Markey introduced a bill in 2009 that applied evenly to public and private schools and other entities. But she abandoned that approach because of the broad, legitimate opposition to any proposal that invited more lawsuits against every public school and municipality in New York State.
Tragically, sexual abuse occurs everywhere children and adults interact. To be fair and effective, laws targeting sexual abuse must apply evenly to all sectors of society. There is no legitimate basis to discriminate against private schools, churches, businesses and charities.
The Markey bill targets private organizations only because it amends the Civil Practice Law and Rules and fails to amend the General Municipal Law and the Education Law to remove the short "notice of claim" requirement for individuals suing public institutions.
As a result, an individual abused in a private school in 1950 would get an additional year to sue. But a child abused in a public school even as recently as four months ago would be afforded no additional time to sue.  Sexual abuse is sexual abuse, no matter where it occurs. The discrimination in the Markey bill makes no sense.
3. Waiving the statute of limitations is constitutionally suspect and poor public policy.
Retroactively rescinding the civil statute of limitations casts aside a fundamental principle of American jurisprudence. It changes the rules after the fact and eliminates an essential protection against fraudulent claims – a protection that is in place in every jurisdiction in the United States.
As the New York State Bar Association has observed:
"Over time, evidence is lost or destroyed and witnesses die or become unavailable or, when they are available, their memories are less reliable. These circumstances make proof and defense of such actions extremely difficult, if not impossible, for all parties involved." — New York State Bar Association's Committee on Civil Practice Law and Rules Legislative Report #8, Feb. 25, 2003
4. There is a fairer, more effective approach.
Any proposal that creates two different classes of victims, depending only on where the abuse occurred, is fundamentally unjust. A child abused in a public school should have the same legal rights as a child abused in a private school.
The Catholic Conference of New York State supports A8064/S6477, the comprehensive Senate and Assembly bills that protect children and protect the rights of victims without discriminating based on where sexual abuse occurred.
The Catholic Conference represents New York State's Bishops in matters of public policy.