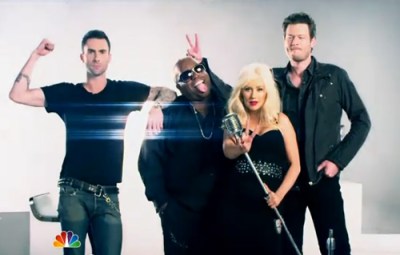 Last night's Super Bowl was super exciting, what with Madonna and the very close game between the New England Patriots and the the New York Giants. And New Yorkers were not the only ones who thought so: last night's game was the most-watched television event in TV history, beating out last year's 111 million average by an extra 300,000 viewers. (We speculate that those extra viewers were people who hate football but love Madonna, and who turned off NBC the moment Downton Abbey started.)
A giant event like the Super Bowl breaking its own record is not that unusual. A little bit stranger is the fact that the night had a second huge win for NBC when the second season premiere of The Voice became the highest rated entertainment program since 2006.

While early estimates had The Voice rated a 16.3 in the 18-49 demographic, it wasn't until later today that the final tally was in for the reality show starring Cee Lo, Adam Levine, and Christina Aguilera : 37.6 million viewers overall, the highest number of viewers since 2006's post-Super Bowl episode of Grey's Anatomy, which pulled in 16.5 in that crucial demo.
So what do these numbers tell us? Well that people between the ages of 18-49 still make up the majority of television viewers, for one. But also that it took six years for something to become more popular than Grey's Anatomy. And follow-up question: How big could the Venn Diagram of fans for the two shows actually been, that people didn't turn off their set after Seattle Seahawks lost to the Steelers? At least with Cee Lo in both the Super Bowl and The Voice, there's a common thread. But what Steelers fan just really needed to find out if Derek and Christina were able to save Bailey's husband while she was in labor?
All of them, you say? Fair enough.