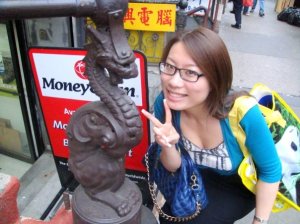 Earlier today, New York City Comptroller John Liu's campaign treasurer, Jenny Hou, was arrested by federal authorities and charged, among other things, with helping orchestrate a fundraising scheme to boost Mr. Liu's mayoral campaign.
While the complaint against Ms. Hou involve interviews and emails, they also, somewhat amusingly, frequently quote her instant message chats. Thus phrases like "YUP!!!" and "THANK YOU!!!!! I'll make you out a ck [check] today" appear throughout the otherwise bland document.
The special agent also took time to correct her spelling, sometimes for clarity, like translating "cc" to "[credit card number]," and other times to just simply make things grammatically proper like capitalizing sentences.
Unfortunately for Ms. Hou, these charges are no LOL.
You can view four examples of this below, along with the full complaint:
On or about July 14, 2011, JIA HOU, a/k/a "Jenny Hou," the defendent, participated in a series of instant message chats with the Individual (the "7/14/11 Chats"), which began at approximately 12:07 p.m. During these chats, HOU asked, "Can you talk now? Call me if you are [able to talk]." The Individual responded, "Why don't you fill it [campaign contribution form] out for me." HOU then stated, "Yeah, I'm thinking of doing the same thing cus [because] there's no time. How are you gonna give me the CC #? [credit card number]? here?" the Individual then stated, "Emailed. Check." At this time, approximately 12:38 p.m., the Individual sent HOU an email which contained the Individual's mailing address and a credit card number. Shortly thereafter, the email chat between HOU and the Individual continued. HOU resopnded, "got it." The Individual asked, "What is this [for]." HOU then stated, "THANK YOU!!!!! I'll make you out a ck [check] today." …

On or about July 15, 2011, JIA HOU, a/k/a "Jenny Hou," the defendent, participated in another series of instant message chats with the Individual (the "7/15/11 Chats"), which began at approximately 11:37 a.m. During these chats, the Individual asked, "Made it?" HOU responded, "YUP!!! Almost ended up using your CC [credit card number] this morning but we made it over one million …

On or about July 18, 2011, JIA HOU, a/k/a "Jenny Hou," the defendent, participated in a series of instant message chats with the Individual (the "7/18/11 Chats"), which began at approximately 11:37 a.m. … Later in these chats, HOU stated, "I'm so happy. Thanks a lot. Even tho I didn't get to use yours [credit card number for campaign contribution] this time. But I'm sure I'll use it at some day in the future …"

On or about July 9, 2011, JIA HOU, a/k/a "Jenny Hou," the defendent, participated in an instant message chat with Campaign Volunteer-2. In the chat, Campaign Volunteer-2 stated "another reason to cover the top of the cntrb [contribution] form is that [Intermediary-2's] forms have the date and location of the FR [fundraiser]. [H]aving the cntrb [contribution] check or cc receipt can cover that up. HOU replied, "ok." …
Read the full complaint against Ms. Hou below: