If you think sports betting is fun, you should try sports investing.
On Monday, we looked into the publicly-held MSG Entertainment's stock price increase since the New York Knicks' winning streak—and Linsanity—has taken hold.
It looked like this: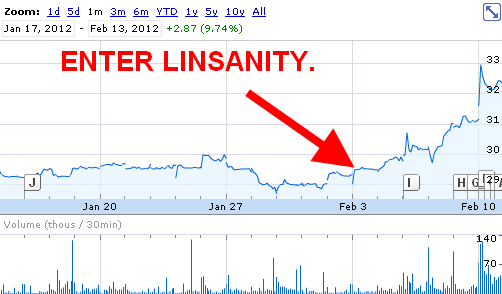 And like this: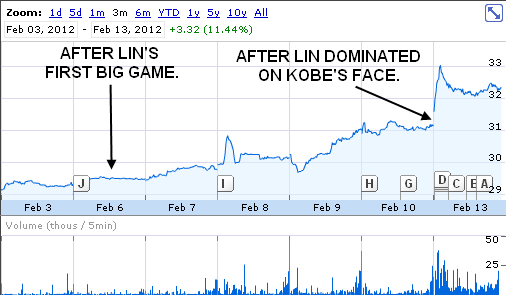 On Monday, $MSG had closed at $32.28. Trading closed today at $31.91, down from a morning rally that took it to a new high at $32.92. Even at the stock's closing price today, however, the gains made off of Jeremy Lin's entry to the team and their brand new (but already mythologized) winning streak is still great news for $MSG. How great?
Charles F. Dolan—the founder of Cablevision and Madison Square Garden Inc., the director of the company, and father of MSG Chairman and Cablevision President James L. Dolan—holds 6,298,253 shares of common stock in $MSG.
That 11.189% increase the stock gained over the last week has resulted in the value of his holdings increasing by $19.78 Million. James Dolan, by comparison, holds 1,174,092 shares of common stock in $MSG, netting himself a gain of about $3M
The other largest holders and their gains, via Standard & Poor's:
Southeastern Asset Management, Inc. $18.65M
T. Rowe Price Group, Inc. $17.00M
GAMCO Investors, Inc. $10.04M
Clearbridge Advisors, LLC: $8.92M
The Vanguard Group, Inc. $8.59M
Burgundy Asset Management Ltd. $7.63M
Ariel Investments, LLC $7.16M
River Road Asset Management, LLC $7.15M
Dolan, Helen A. (Former Director) $6.12M
BlackRock, Inc. (NYSE:BLK) $5.89M

In light of all that new Knicks money, a reminder of just how much Jeremy Lin is going to make this season from the New York Knicks:
$762,195, or the minimum for an NBA player in his second year.
fkamer@observer.com | @weareyourfek