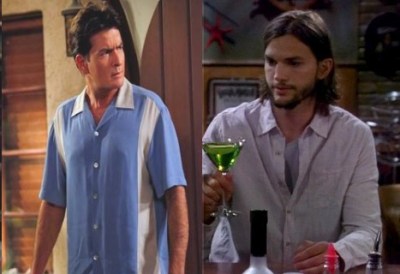 Backstabber! Just last month, Charlie Sheen was praising his Two and a Half Men replacement, Ashton Kutcher, for following in his footsteps and completely falling apart the classy way he was handling tabloid pressure. (Since joining the show, Mr. Kutcher has separated from wife Demi Moore after illicit, drug-fueled photos of him with other women began cropping up.)
"I was kind of impressed… I thought, 'Hey, man, make it colorful!'" Mr. Sheen said about Mr. Kutcher's exploits. He'd previously given Mr. Kutcher his blessing on taking over for him on the show as well.
But Charlie Sheen, truth-sayer that he is, couldn't contain his contempt for Kutcher and CBS during a TMZ phone interview yesterday.


Said the thespian whose veins are filled with tiger blood: "I'm tired of lying. I'm tired of pretending the show doesn't suck. I'm tired of pretending Ashton doesn't suck."
He then added, "It's nothing personal." Which is probably why he's offering Mr. Kutcher's ex-wife a role in his next project, a TV version of the Adam Sandler/Jack Nicholson classic, Anger Management. As Mr. Sheen would probably say, "It's just good business, bro! This has nothing to do with the fact your very first episode beat any of mine in the ratings for our (mind-bogglingly) popular show!"
At least now, Mr. Kutcher can finally say he's in good company.