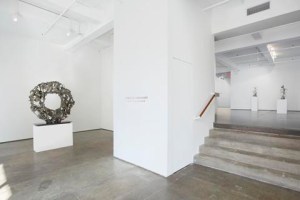 The Nicholas Robinson Gallery on West 20th Street recently closed its doors for the last time, Gallerist has learned. A small operation that, since 2007, has put on well reviewed shows from McDermott & McGough, Jason Polan, Ron Gorchov and John Copeland, it was ultimately overrun by the costs of doing business in Chelsea, according to former director Christine Højer.
"It's in response to very difficult economic conditions," she said. "It's a young gallery and we have a very big overhead, so it's too much of struggle, really." The reasons for the closure were almost self-explanatory, said Ms. Højer adding that she had nothing to do with the decision to close the gallery, and had already left by the time that decision was made. "It's not like we're closing because we've made $500 million and we don't need to work anymore."
The decision to close the gallery was made around Christmas, and artists were informed of those plans shortly after that.
Former employees there are are currently in the process of returning works to their artists. Ms. Højer said she could not speak about the future because she doesn't know what it holds for Mr. Robinson, or for herself.