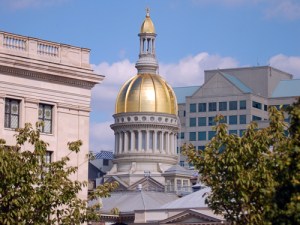 TRENTON – Saying with pride the latest slogan that has dominated his town halls, Gov. Chris Christie urged residents today to join him in helping the state get back to its glory days, and introduced his $32.1 billion budget for fiscal year 2013.
"Resolve today to join us in the tough choices which leadership and truth inexorably lead us to, and join us now," Christie said. "End the nay saying – join us to accelerate the New Jersey Comeback this year."
He focused on proposal to cut income taxes across the board by 10 percent.
"We know that the only way to ensure that Trenton politicians will not waste your money is to not send it to them in the first place," he said. "Adopt my 10% tax cut plan this year – put our citizens' pocketbooks ahead of the never ending hunger of Trenton politicians for more of our money now."
Given the state's geographical location, such a tax cut is warranted, he said.
"We are in a competition for jobs with other states," he said. "Some other states, like New York and Connecticut, are raising income taxes that will drive businesses out. New Jersey should choose responsible tax cuts to give overburdened citizens relief and help businesses grow jobs."
Some of the cuts instituted last year are already bearing fruit. He said private sector job growth has taken place, unemployment is decreasing and budgets were balanced without having to raise taxes.
He said that "Today, it is time to continue making those better choices. Today, we will both maintain our fiscal discipline, and drive New Jersey into a new era of growth. Today, it is time to put the New Jersey Comeback into high gear."
The budget calls for increases in spending for schools and public universities and keeps a many social safety net programs in place.
"I propose that we continue to reform and repair the programs of state government to better engage and serve New Jersey's most vulnerable citizens."
He added that the days of freewheeling spending and burdensome taxes are a thing of the past.
"Government abused the taxpayers of New Jersey because government refused to control its own appetite for spending," he said.
He had a simple message for Democrats if they seek to raise taxes, specifically by reinstating the millionaire's tax.
"I will veto any tax increase again" he said to rousing applause.