The popular Union Square eatery The Coffee Shop has renewed its retail lease at its long time home at 27 Union Square West and also office space it has upstairs in the building.
The deal totals about 20,000 square feet and stretches for ten-years, according to Eric Gural, an executive at the real estate services firm Newmark Knight Frank who oversees leasing at the property and whose family owns the nearly 50,000-square-foot box-shaped, boutique building.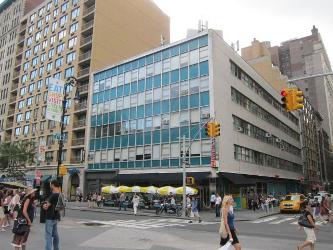 The Coffee Shop, known for is attractive waiters and outdoor eating area across from Union Square Park, occupies about 7,000 square feet on the ground floor and 8,000 square feet on a basement level, where it has an event and party space. Gotham City Restaurant Group, the company that operates the eatery as well as other venues, including the cajun dive bar Live Bait nearby on 23rd Street in the Flatiron District, also renewed its 5,000 square foot office in the deal, which is on a portion of 27 Union Square West's fifth floor.
Mr. Gural declined to specify the rents in the lease but said that asking rates for ground floor retail space in Union Square have shot up past $400 per square foot due to the area's high foot traffic and roster of retail attractions such as Whole Foods, Nordstrom Rack and others that have made it a prime shopping destination. He pegged office asking rents at around $50 per square foot. Mr. Gural and his father, Jeff Gural, one of the founders of the big brokerage firm Newmark Knight Frank, both preside over the family's large commercial portfolio (though Eric has taken the lead with leasing) and enjoy a reputation for being friendly to tenants.
"This was a friendly negotiation," Mr. Gural said of The Coffee Shop deal. "We know each other and they've been a tenant for a long time. In a lot of ways, they were one of the tenants that really led the resurgence of the area."
Dgeiger@Observer.com