Jonathon Yormak is buying buildings that tenants are going to want to be in and he is making sure brokers know it.
Tomorrow morning, Mr. Yormak is holding a broker party at 256 West 38th Street, the nearly 120,000 square foot office building that he bought last year with business partner David Peretz. The first 50 brokers to attend will get a crisp new 50 dollar bill to put in their pocket.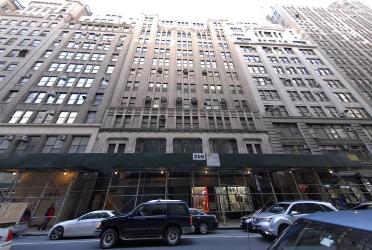 "The building has been a little off the radar and the community needs to know that the new owners are prepared to lease," Mr. Yormak said. "For people who were thinking about coming to see the building but weren't sure, this is an extra little nudge to come out."
During the real estate boom years, Mr. Yormak was an executive at Broadway Partners, one of the most prolific buyers during the peak and, subsequently, one of the worst wipeouts of the downturn that followed. Mr. Yormak left the firm in 2009, eventually starting his own real estate investment company with Mr. Petetz (another former Broadway Partners executive) called East End Capital Partners.
Mr. Yormak said the firm's focus is to buy residential rental properties and side street, Class-B office buildings.
"We want to bring a Class A mentality to buildings that have historically been run in a different manner," Mr. Yormak said.
During the summer, East End Capital scooped up 256 West 38th Street from the Emirates Group for about $30 million, a price that Mr. Yormak said equated to about $250 per square foot, a bargain even for an undistinguished Garment Center building.
"It was a price where we could afford to put capital into the property," Mr. Yormak said, listing the improvements that East End has made to the property, including upgrading the lobby, constructing pre-built units and improving the elevators. Mr. Yormak said he's leased a floor and half of another since taking control of the property. With almost 50,000 square feet of vacancy left however, he wants to get dealmakers in to see the space in order to draw potential tenants.
"We are open for business," Mr. Yormak said.