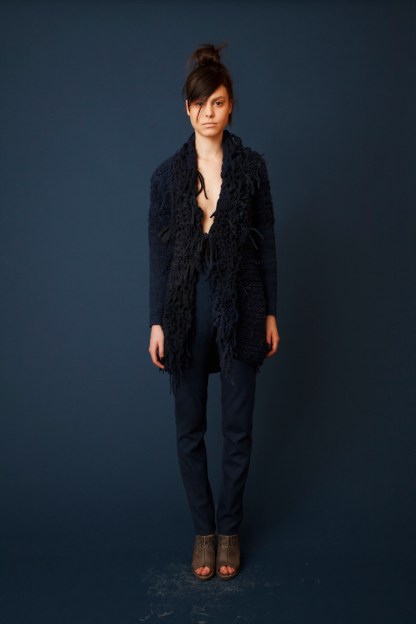 No agitated people stood outside a 26th Street gallery on Friday, just a smiling attendant who guided The Observer into a creaking freight elevator the size of a barn. Upstairs, we were met with pinot grigio and delicate music, all harps and violins.
The models stood in two rows, blinking. Clad in Correll Correll's romantic knits, they all sported strange buns with a chunk of hair pulled out that flopped over their eyes. A brunette model in the front row seemed to have forgotten model protocol, if such a thing exists; she itched her elbow, shuffled her feet, and made eye contact with anyone who looked at her.
Then the floor shook, and everybody gasped. Publicists scurried over to help a woman who had fallen in front of the first row of models, and to scoop up the wine glass she had broken. The space left bare on the floor after they pulled her up was spattered with red dots. They shuffled the woman off into a side room. She clutched her bleeding hand and looked mildly amused about her predicament.
We noticed that the brunette model was stifling a giggle, and our head filled with visions of a bloodthirsty model-turned-sociopath murdering everybody in the room with a chunk of shattered wine glass. Publicists dove toward the stains on the floor with wet paper towels.
"Did you see her fall?" we overheard.
"Yea, that's why you eat before you drink."
"No, it wasn't that. Her heel broke!"
After all the commotion had died down, we spoke with Daphne and Vera Correll, the absurdly beautiful German twins behind the collection. They had nothing but wonderful things to say: about the judges who gave them the Ecco Domani award, the "lovely stores" in New York that carry their line, and Fashion Week in general. Their pretty angular faces glowed with the unique high of designers at their first show.
We spotted the brunette model share a laugh with the now-bandaged woman who fell, and we decided that she probably wasn't a sociopath. The woman's studded heels were both intact.

The Observer intended to ask the Correll sisters a token snarky question, tonight's being "What does Fashion Week smell like?" But looking into their wide-eyed joy, their emanating belief that Fashion Week was about beautiful clothes and nothing more, we didn't have the heart.