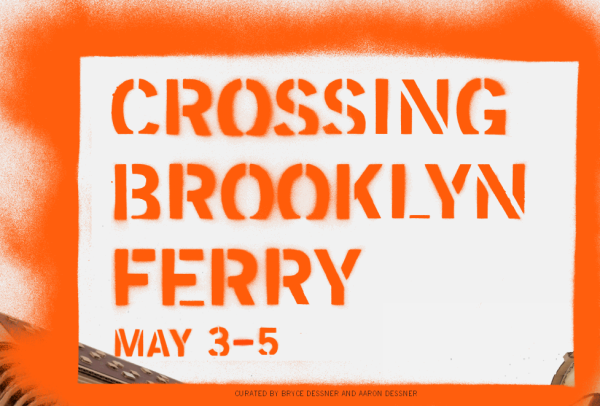 In January, the
Brooklyn Academy of Music
announced
that they'd be hosting a three-day music festival,
Crossing Brooklyn Ferry
(named for
the Walt Whitman poem
) curated by the
Bryce Dessner and Aaron Dessner
 of Brooklyn-based "indie" megagroup The National. Today, they announced the lineup. Surprisingly, no performance by The National! But a bunch of other bands—quite a few from Brooklyn, of course—will be there.
Those bands are:

MAY 3RD
The Walkmen
Sharon Van Etten
Twin Shadow
Jherek Bischoff
Zs
Callers
People Get Ready
yMusic
JACK Quartet
MAY 4TH
St. Vincent
The Antlers
Tyondai Braxton
Buke and Gase
Sinkane
Ava Luna
Missy Mazzoli and Victoire
NOW Ensemble
Hubble
Joakim
MAY 5TH
Beirut
Atlas Sound
My Brightest Diamond
yMusic
Caveman
Oneohtrix Point Never
Janka Nabay & the Bubu Gang
Skeletons
Brooklyn Youth Chorus
The Yehudim
Benjamin Lanz
DJ Set by Pat Mahoney and Nancy Whang (previously of LCD Soundsystem)
Not to say we told you so, but: some of the biggest acts in the festival (Sharon Van Etten, St. Vincent, My Brightest Diamond) made appearences as opening acts or onstage with The National during their six-night run at the Beacon Theater in December.
For what it's worth, this marks one of the largest rock festivals ever to be held in the borough's confines. While it might not reach Kraftwerk-levels of entry-point scouring desperation, it should be a hot ticket no less (and if anything, makes the recently-announced Pitchfork Music Festival in Chicago look downright bush-league*).
For matters of context, and because footage of their most culturally significant live performance is difficult to embed, here is a video of The Walkmen playing "The Rat", a pretty great song:
[
*Except for Cloud Nothings, obviously. They're pretty great.
]
fkamer@observer.com | @weareyourfek