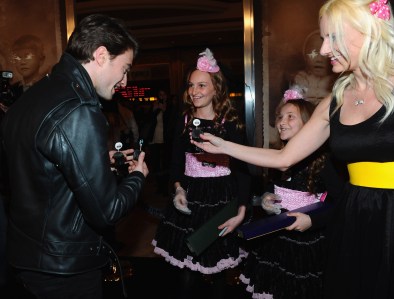 Oh my Dumbledorfs: Daniel Radcliffe (or as we like to refer to him, the British Elijah Wood), has come out and admitted that he copulated with fans of his Harry Potter films during a recent interview with The Daily Mirror. No, he didn't have sex during the interview…you know what we mean.
So while we're all still reeling from the shock that the boy wizard drinks too much alcohol (and is not that funny at live comedy), now we have to come terms that some lucky Muggle got Harry's wand in their ____ (whatever the magical apparatus equivalent of a vagina is).
From Mr. Radcliffe's admission:
'I was always very nervous about the groupie thing. I like to like somebody before I sleep with them.

'You know, you're going to have to talk to them afterwards, even if it is a one-night stand.

'I have… I mean, that has happened, but generally speaking I've known the person. Apart from a few times when I was drinking.'
So essentially, if you've caught Daniel Radcliffe while he was in his cups and tell him how much you like his Quidditch performance, than you might have had a shot of sleeping with the now 22-year-old. But just know: he really didn't like talking to you the next morning, but did it anyway. Because he's a gentleman.
Actually, now that we think about it, this raises a couple of questions:
A) How do we know these were Harry Potter fans, and not fans of his Broadway performance in How to Succeed in Business Without Really Trying?
B) Where is Daniel Radcliffe getting drunk that he's able to be accosted by fans? Unless he was drunkenly trolling some local Barnes & Noble in New Jersey when The Deathly Hallows came out, we find it hard to believe that someone of his fame level just accidentally gets drunk around a bunch of attractive fans.
C) If Daniel Radcliffe cashed in on his fame, does that mean Robert Pattinson has also drunkenly slept with groupies?