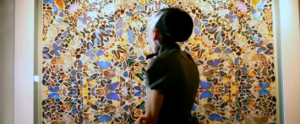 Fashion designer and beer heiress Daphne Guinness is asking $14 million for her four-bedroom, four-bathroom apartment at 995 Fifth Avenue, which has been on the market since January.
But what we're really thrilled by is a video up at The New Yorker, "Daphne Guinness: At Home," which shows Ms. Guinness lolling on a couch in her home at the Stanhope, reflecting on her love of New York and, oh, snakes, lizards, and butterflies. Her apartment, as you'll see, is filled with butterflies—framed specimens on bookcases and side-tables. She even has one of Damien Hirst's large kaleidoscope collages made of butterfly wings.
But while she surrounds herself with all these remarkable things, she is only human and recognizes that many of her design choices happened by accident. "A lot of things happen by mistake," she says looking up at the Hirst painting. "My hair happened by mistake." Even if you're not looking to buy, it's worth a look.