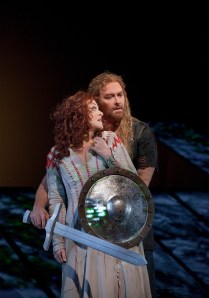 I hope it will spoil no one's six-hour evening to learn that Robert Lepage's production of Götterdämmerung, the fourth and final opera in Wagner's Ring cycle, ends the way Mr. Lepage's cycle began.
Although it was only September, 2010, it seems a long time ago that the Metropolitan Opera's 2010-11 season opened with Das Rheingold, the first Ring installment. Bathed in blue light, the monumental set of 20 enormous planks levitated in silence, like something out of Kubrick. The music began: that long, low E-flat that in Wagner's ears was the sound of the birth of the world. Then, like the music, the machine began undulating—first slowly, then faster. My mouth fell open; I was looking at the river Rhine.
For a minute or two, it was magic: everything felt possible. In the 15 hours of the Ring that Mr. Lepage has given us since then, there have been other heart-catching moments in which the visual spectacle and Wagner's stirring, searching music alchemically combined. There's even one in Götterdämmerung, right at the start of the score, when deep chords sound and the machine swoops upward, like a charmed snake.
It is no surprise that the most memorable sequences of this Ring have come at the beginnings of the operas, since the defining problem of Mr. Lepage's cycle is his inability to sustain visual or dramatic interest for more than a few moments. In an epic, complex work that requires that sustained intensity, Mr. Lepage has been plainly at sea, nowhere more so than in Götterdämmerung, his most timid, dully conventional installment yet.
As he did in the other three operas, in Götterdämmerung Mr. Lepage shows greater interest in the workings of his set than in his characters. In the first scene of the first act, a large central panel majestically swings around for no apparent reason; no one has used the doorway that the slow rotation replaces with a wall. But while we are puzzling over the pointless mechanics, we have lost a crucial opportunity to pay attention to and learn about Gutrune, the complicated, conflicted character standing in front of us.
Immense effort seems to have gone into how to transition the elaborate video projections from a rocky beach back to the Gibichungs' hall. Comparatively little attention has been given to what, exactly, the mood is inside that hall. Wagner tells us plainly that the Gibichung siblings are melancholy, lovelorn, childless, and vaguely incestuous, but all that is unreadable here. What does Gunther think about Gutrune? Gutrune about Gunther? Hagen about either of them? If Mr. Lepage has any idea, he doesn't reveal it to us. By the time the director makes what seems like a conscious, even interesting choice—to focus on the sorrowful Gunther during Siegfried's funeral march—we don't know or care enough about Gunther for it to register.
Over the course of the cycle we've grown used to Mr. Lepage's much-heralded projections picking up some of the slack of characters that never quite come alive. Yet the visuals are more halfhearted in Götterdämmerung than in the previous operas. One of the selling points of the projections was their remarkable, seductive interactivity. When Alberich waded in the Rhine in Das Rheingold, his every step dislodged some loose pebbles; little circles of fire flared up around Loge when he walked.
Whether it's due to limitations of time, money, or inclination, that's all gone: when Hagen and Gunther walk into the Rhine in Götterdämmerung, they are simply walking on a projection of water. It doesn't matter, of course, except that we've been sold on the idea that this is what is important in Mr. Lepage's Ring, that this is the cycle's point.
There certainly isn't a point about the work's ideas to be found here. "Götterdämmerung is the only opera in the Ring that has a chorus," Mr. Lepage says in an interview in the program. I'm glad he noticed. But you get the sense that he hasn't thought much about why the chorus, made up of the Gibichungs' subservient vassals, has been added here. Certainly, in Mr. Lepage's blandly benign vision of pagan feudalism, there is nothing of Wagner's own hatred of social hierarchies, his conviction that money and power corrupt everything, everywhere.
That would have been a story well worth telling, particularly in New York, particularly at the Met, in a time of gross social inequality and Occupy Wall Street. But relevance to our own time—indeed, to any time—may have conflicted with what Peter Gelb, the Met's general manager, generously refers to in a program note as the production's "literal but imaginative approach."
The production is in actuality about as imaginative as Fabio Luisi's well paced and well-balanced, but less than poetic, rather faceless conducting. The orchestral performance is in keeping with the general spirit of this Ring, which at its most competent achieves a smooth corporate sheen.
Hulking and calm, with a rich voice of utter steadiness, the bass Hans-Peter König delivers the finest vocal performance of the cycle as Hagen, but why is he playing this malevolent character so kindly? If this is his and Mr. Lepage's choice, it introduces a level of subtlety that this simple-minded production can't encompass.
By the third act Stephen Gould showed some signs of strain as Siegfried, but he sang throughout with sensitivity and a big, rounded tenor more appealing than the bright edge of Jay Hunter Morris, with whom he is alternating in the role. The soprano Deborah Voigt closed her first-ever Ring cycle sounding as she has in the other operas: brave, underpowered, and shrill. Other Brünnhildes have been memorable despite similar vocal shortcomings, but Ms. Voigt is too busy keeping afloat to point the text. The broad emotions are there—anger, love, stony resignation—but they are as generic as the silent-film gestures she keeps resorting to. Her estimable reserves of energy don't have focused direction.
Ms. Voigt did some of her most exciting singing in the scene with her sister, Waltraute, sung by the brilliant, urgent, wildly committed mezzo-soprano Waltraud Meier. Passages of purely lovely singing alternated with rougher patches, but Ms. Meier's cameo was the first and only time in the entire cycle that we experienced a character who actually seemed invested in her own story, that we got a sense of the scope and urgent stakes of Wagner's work. There was finally something to care about.
Mr. Gelb has his own explanation for the opposition to Mr. Lepage, who was loudly booed on this production's opening night. He writes in his program note, "Of course, because our Ring is revolutionary, not everyone supports it."
But Ms. Meier's success in the midst of so much failure was a reminder that Mr. Lepage's production is, at heart, less a forward-thinking one than it is a throwback to the hyperrealistic Franco Zeffirelli spectacles that have long clogged the Met's repertory. As anyone who's seen enough Zeffirelli knows, the productions are utterly mutable. Like Mr. Lepage's Ring, they are grand spaces in which stick figures are moved around. They ignite when you have compelling performers and sink when you don't.
That has been the traditional character of the Met: dependence on charismatic singers for its artistic and financial lifeblood, with desultory attention paid to theatrical values and intellectual point of view. I understand why Mr. Gelb is eager to mark his tenure as a "revolutionary" shift from that ethos, but saying it doesn't make it so. His Met is functioning in the same way that this great, flawed company has always functioned, with a couple more Tony Awards in the directorial credits.
Mr. Lepage's Ring began with jaw-dropping clarity; its great disappointment has been its subsequent confusion. After tens of millions of dollars and six or seven years of development, there is no evidence that Mr. Lepage, an artist renowned for his visual and conceptual imagination, has a coherent, consistent sense of his production: the level of stylization versus naturalism, what the projections signify, how the stage space is organized, the difference between the narrow strip of stage near the orchestra pit and the "trench" behind it, how the characters interact with the projections and each other, how the aesthetic values—costumes, projections—changes over the course of the cycle.
The anticlimactic apocalypse of Mr. Lepage's finale—capped, I kid you not, by little explosions that burst open the heads of white statues representing the gods—elicited more chuckles and eye rolls than shock and awe. And the return to the undulating Rhine in the final bars left me unmoved, a reprise that emphasized how empty the intervening 15 hours had felt.
If you haven't created a convincing world, who cares how it ends?