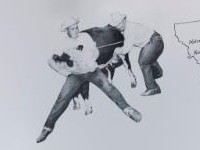 Marc Jancou, of the gallery by that name on West 24th Street, has sued both Sotheby's and Cady Noland after the auction house withdrew a work that he had consigned by the artist, Cowboys Milking (1990), from its contemporary day sale this past fall. Another work by the artist, Oozewald (1989), sold for $6.6 million with premium, a new artist's record, at the Sotheby's fall evening sale (over a high estimate at $3 million), just one day before Mr. Jancou's Noland was to have been sold. Mr. Jancou now claims that the auction house owes him $6 million in damages and that Ms. Noland owes him $20 million.
News of the lawsuit broke in the art world newsletter the Baer Faxt, which reported that the sometimes fickle Ms. Noland "apparently disavowed the work," so Sotheby's yanked the consignment. The lawsuit's complaint doesn't mention this, but says Ms. Noland "tortuously interfered with the consignment agreement by persuading Sotheby's to breach the agreement." (Though it is uncommon, some artists, like Richard Prince and Felix Gonzalez-Torres, have also disavowed works, and experts have come to different conclusions about how to address those decisions.)
Mr. Jancou includes his consignment agreement with Sotheby's as proof of the breach of contract, though that only seems to govern his actions. For auction house behavior, Sotheby's refers readers to its standard "Conditions of Sale" printed in each catalogue, which says on the matter of withdrawal.
"We reserve the right to withdraw any property before the sale and shall have no liability whatsoever for such withdrawal."
"We regard the claim as meritless and will vigorously defend it," Sotheby's spokeswoman Diana Phillips told Gallerist. Mr. Jancou and Ms. Noland were unavailable for comment.